Lighting Buying Guide
by Staff Writer
The right lighting and ceiling fans are not only more efficient and cost effective, but they also accentuate the personal style of your home. This lighting buying guide is designed to assist you in choosing the right fixtures to furnish your home.
Find Your Fixtures: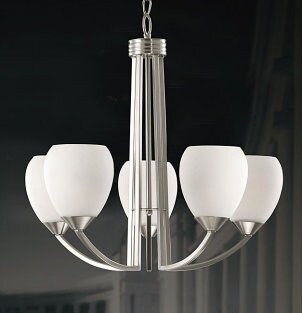 Shop Lighting and Ceiling Fans ▸
Floor lamps:

Floor lamps are often adjustable, using three-way bulbs. They take up very little space and are convenient for reading areas. Choose torchiere lighting, which sends the light upwards, shade lighting, which focuses the light of the floor lamp out and down, or a floor lamp with a combination of the two.

Table lamps:

Table lamps usually range from 25 inches to 34 inches in height and are the most-used general lighting in all homes. Some are lit by candles, as in the alabaster lamps of ancient Egypt, while others use gas or electricity. Table lamps look best when the base and the shade are in proportion to each other. When you sit, the lampshade should be at eye level and the light bulbs unseen.

Accent lamps:

Accent lamps are smaller, useful in rooms such as the hallway, bedroom, bathroom or entryway. They are usually less than 20 inches in height and use a smaller bulb. Accent lamps are most often used as decorative lighting or to illuminate little areas, such as a craft table or desk. They can also create an ambient, luminous glow near bookcases or hobby collections or in an unused corner of a room. Accent lighting under kitchen cabinets or back lighting on the top of kitchen cabinets is currently popular. Also popular is lighting for curio cabinets and picture lighting for artwork.

Ceiling fixtures:

Ceiling fixtures, such as chandeliers or flush-mount lighting fixtures, fill a room with light. A ceiling light fixture adds a general glow to a room, but may you may also need task lighting on a lower surface. Using an additional lamp helps to counteract the harsh shadows cast by ceiling light fixtures. Decorative ceiling light fixtures, such as chandeliers and pendants, make a beautiful and functional addition to any room. Other modern ceiling light fixtures include track lighting and recessed lighting.

Sconces:

Wall-mounted lighting, such as sconces, is a popular way to illuminate porches and hallways. Wall sconces over a sofa set or in a dining room will add to the ambiance of your home. Home lighting creates moods and warmth in home decor, and wall sconces make dramatic focal points in your room. Most wall mounts or wall sconces shed soft lighting and are meant as room accents only. Many must be hard wired into your wall. Professional installation of these wall light fixtures is recommended.

Bathroom lighting:

Bathroom lighting should be flattering when you look in the mirror. It also needs to provide illumination for tasks like shaving and applying make-up. Combine overhead lighting with sconce lighting or a lighted vanity mirror to get the right combination. Wall-mounted lighting sconces and vanity lighting must be hard wired into your wall.

Picture lights:

Picture lights make a dramatic difference in the appearance of your wall art and photos. The added light brings out colors and details you might not notice under the regular lighting of a typical room. Most picture lights mount to the frame, and many are cordless. You can find them in a variety of styles and finishes that coordinate with a variety of frames. Typically, you want picture lamps that feature a warm white light. If you go cordless, make sure it is energy efficient, so you won't be replacing batteries too often.

Outdoor lighting:

Outdoor lighting makes a home safer and accentuates landscaping. Porch fixtures welcome you home and let people know where the front door is. Patio lighting can make the outdoors into a second living room. Garden lanterns can illuminate a path or the area around a pool. Choose from several types of outdoor lighting: landscape lights, utility lighting, safety lights and solar outdoor lights.

Lamp shades:

As you choose your lamp shade, consider the size and the way it directs light. Large lamp shades create a feeling of whimsy, while those with a similar proportion to the base will give a more traditional feel. IN the product description, sizing is listed in three dimensions: first, the diameter of the top; second, the diameter of the bottom; and third, the height of the shade. After you determine the correct size, think about how you will be using the lamps. Opaque lamp shades focus the light down for task lighting, while transparent lamp shades lend the most light to a room.

Tiffany lamps:

Tiffany style lamps feature stained glass shades. Any type of lamp -- a floor lamp, table lamp or accent lamp -- can be a Tiffany style lamp. The beautiful stained glass shades are soldered together with copper foil, and they provide you with an array of color and style choices.
Tips from Overstock™
You may want to have extra light in places such as the kitchen and workroom, where tasks are performed, and in rooms where the ceiling is over 8 feet high. Dark colors on walls and floors absorb light, so add extra wattage in those rooms.
When you are looking for decorative lighting with an international style, visit our Worldstock lighting department. From brightly colored Moroccan lamps to Zen-like Asian lighting, our Worldstock lighting is sure to satisfy your global decorating tastes.