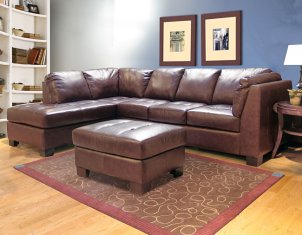 Leather is four times more durable than other fabrics. The longevity of the fabric makes it a popular choice for furniture used daily. From sofas and love seats to dining room chairs and wingbacks, many people are choosing leather for furniture in their homes. Leather furniture adds elegance and functionality and is available in a variety of colors and textures. This leather furniture fact sheet will help you round out your knowledge on this popular type of furniture.
About Leather Furniture:

Pure and semi-aniline leather: Buffing and color correcting is rarely required of pure aniline leather by furniture manufacturers. Dyed without pigment, it is the finest cowhide available, exhibiting few imperfections. This type of leather develops its own patina and shading over time, exemplifying natural leather shades, softness and grain. Pure aniline leather has a low resistance to fading and stains. Position furniture made of aniline leather in interior rooms or away from windows because sunlight can fade it. Semi-aniline leather is more durable than aniline leather. It is buffed and dyed with pigments for even coloring. Brightly colored modern sofas, sectionals and chairs are made from this type of leather. Semi-aniline leather offers more stain protection than pure aniline, making it a top choice for families with children and pets.

Nubuck leather: Dyed without pigment, nubuck leather is polished to showcase a unique soft texture. Furniture made of this type of leather should not be positioned in the sun, as fading is possible. Similar in appearance to aniline leather, nubuck leather exhibits the natural colors of leather with a delicate nap. Place furniture made of this luxurious leather in a sitting room where food is not served.

Distressed leather: Choose distressed leather furniture to add a touch of antique style to your home. Some aniline leather goes though a special aging process, giving it a naturally distressed appearance. Storage chests, captain's chairs and round tables topped with stretched distressed leather give an old-world charm to a home.

Suede: Inviting and warm, the soft texture of suede offers a similar nap as nubuck leather. Stains are easily trapped in the texture of suede. Choose suede for dining room chair backs rather than everyday sofas.

Cleaning leather furniture: Cleaning and conditioning by a professional furniture cleaning service is recommended every three months for leather furniture. In between cleanings, a few home cleaning techniques will take care of small stains and accidents. Mix one part vinegar with two parts food-grade linseed oil. Use a white lint-free cloth to apply the mixture to the stain in a swirling motion. Leave the mixture on the stain overnight and buff with a clean cloth in the morning.

Buy Leather Furniture
Back to Guides Directory