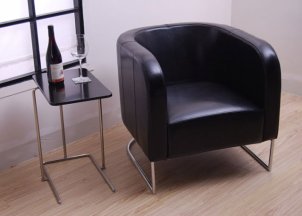 It's no surprise that leather chairs reside at the center of home style and fashion. These beautiful chairs are comfortable and look fabulous in any home. You usually see a leather chair sitting in a living room or library, and -- just like any other piece of furniture -- they need regular maintenance. Performing necessary leather chair care should be done on a regular basis. If you care for your leather furniture, it will reward you with many years of quality service.
Caring for Leather Chairs:

Vacuum it. Get out the vacuum and give your leather chair a thorough cleaning. Vacuuming between the leather cushions will get rid of dirt that you didn't even know was there. It's also a good idea to vacuum and dust under your leather chair and ottoman on a regular basis. Getting rid of dust will protect your leather chair from grime and grit. In addition, vacuuming will extend the life of your leather chairs.

Wash it. Cleaning your leather chair, whether it's a recliner, club chair or armchair, is easy. Check for stains and spot treat any you find. This will extend the life of your leather furniture. In addition, be sure you dust the legs of your leather chairs and ottomans if they're made of wood.

Condition it. Your leather chair will need to be oiled and conditioned on a regular basis if you want it to stay smooth and supple. There are home remedies out there, but these can damage your leather furniture if applied incorrectly. The best and safest way to perform leather chair care is to purchase leather cleaner. Follow the directions on the back of the product and get ready to enjoy your leather furniture for years to come.

Be careful where you put it. Leather recliners and sofas are sturdy and hardy pieces of furniture, but there are a couple of things that will damage them. Try and keep your leather chairs away from direct light sources like windows because too much light can make your leather chair fade. In addition, if the window is accidently left open, your leather chair could be damaged by snow or rain. Another thing that will hurt your leather furniture is exposure to excess heat from your fireplace or heat vents. Leather naturally cracks, but light and heat will speed up the process.

Cover it. If at all possible, try to cover your leather furniture with a blanket or sheet when it's not in use or if you're going to be away for an extended period of time. Keeping it covered will protect it from dust and light, thereby extending the life of your beautiful leather investment.

Buy Leather Chairs
Back to Guides Directory