Laundry Room Buying Guide
by Stephanie Petersen
For most people, laundry day is a bad day. It means dirty clothes are threatening to take over your bedroom. It means spending hours doing a reviled chore. It means wondering if your clothes will come out of the process looking okay. Worse, it means wearing your least favorite outfit because it's the only thing that's clean.
However, with the right laundry supplies, laundry day may still not be your favorite day, but at least it will be easier. With all of the tools available, you may be unsure which ones will help you. This buying guide includes the information you need to evaluate your options and choose the things that will help make this chore hassle-free.
Laundry Room Essentials: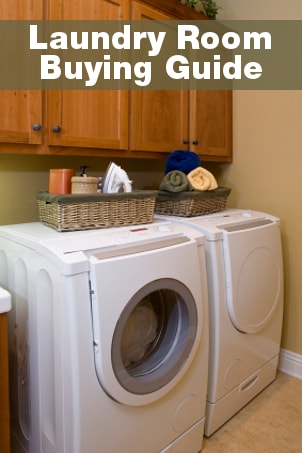 Shop Pressing Irons ▸
Hampers:

Start the laundry process by being organized with a hamper or two. When you have a laundry hamper, you can always put your dirty clothes into one place; no more piles on the floor, on the chair, or on the exercise equipment. You'll know that it's time to do a load of laundry when the hamper is full. When you have two or three hampers, you can separate the different loads as soon as you take off your clothes. One hamper is designated for whites (to be washed in hot water), one for colors (to be washed in warm water), and one for darks and delicates (to be washed in cold water). With pre-sorted laundry, you won't have to think twice about how to wash your clothes.

Garment steamers:

Garment steamers are a quick, gentle way to remove wrinkles from clothing. You can even use clothes steamers on household fabrics, such as curtains, tablecloths, slipcovers, and more. Simply fill the water chamber, let the garment steamer heat up, and wave the steam over the wrinkled items. A clothes steamer can also make clothes feel fresher when they don't quite need to be washed. Maybe you've been saving out-of-season clothes at the back of your closet, only to pull them out and see that they look a bit droopy. A steamer will perk them up with a little blast of steam. A travel garment steamer will reduce the wrinkles that result from folding clothing into luggage.

Pressing irons:

When you need a crisp crease, nothing beats steam irons for giving your clothes that pressed look. Steam irons don't need too many features to be helpful, and even the least expensive irons cover your basic needs: adjustable temperature, a nonstick soleplate, and the ability to use steam. Other features on irons are available to suit your preferences, such as ergonomic handles, lightweight designs, self-winding cords, or an automatic shut-off. The more you iron, the more you'll appreciate the extra features. Don't forget to pick up an ironing board, too.

Garment racks and hangers:

When you're done ironing your laundry, hang your clothes on a convenient garment rack. Add a clothes rack to your laundry room, so you can hang clothes straight from the dryer, preventing many wrinkles before they start. A garment rack added to your bedroom can make up for a lack of closet space. If you need to store out-of-season clothes, you can put a clothes rack in your basement or attic.

Lint shavers:

"Pilling" is what happens to older clothes and upholstery when small balls called "pills" form on the fabric. A lint shaver trims the pills off, making the fabric look smooth and new again. Soft clothing items, especially sweaters, are susceptible to pilling, no matter how careful you are about doing laundry. With a lint shaver and a little time, you can keep your wardrobe looking great. Most clothes shavers cost far less than replacing a pilled item of clothing. Every laundry room should include one, and you may also want to keep another one at work or in your car for last-minute touch ups. Many lint shavers are battery operated, while others are rechargeable or corded. When a lint shaver's power runs low, it loses its effectiveness and can even start to damage delicate fabrics. Be sure to keep your clothes shaver powered up or have extra batteries on hand.