Large Kitchen Appliances Buying Guide
Stand up to the heat in the kitchen with new large kitchen appliances. Finding the right kitchen appliances for your family and lifestyle will enhance your cooking experience and the amount of joy you create in the kitchen.
Choosing the right large appliances for your lifestyle can help you find your groove in the kitchen. From finding a fridge that keeps all types of food fresh to deciding on a dishwasher to simplify cleanup, think of your large kitchen appliances as your closest allies in helping you and your family eat healthy and well. The key to success when buying a large appliance is to consider function before form. When you find the appliances that best service your day-to-day needs, selecting a style and finish you love will feel like the perfect icing on an already delicious cake. This guide is your first step to make buying large kitchen appliances as easy as pie.
What to Consider When Choosing Major Appliances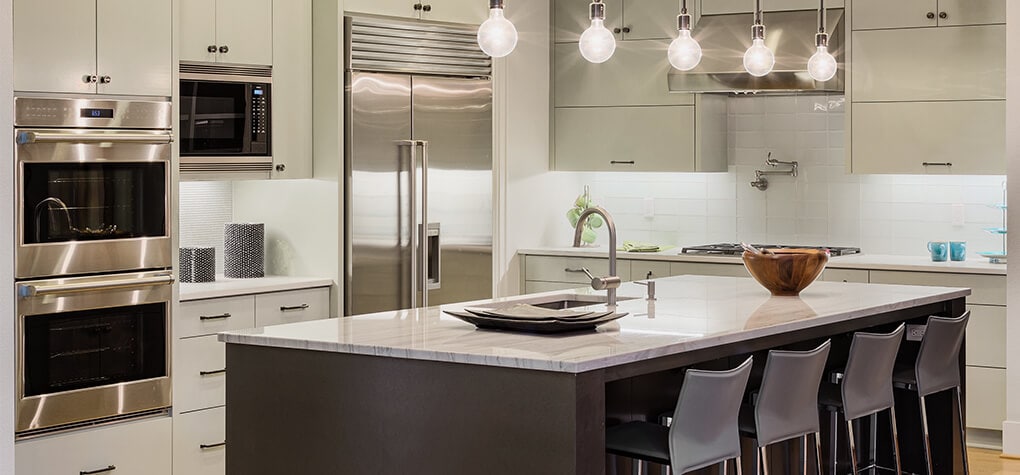 Sizes: Appliances come in many sizes to service a party of one or a large family. The capacity of each appliance isn't the only important consideration when it comes to thinking about size. Not only should you carefully measure the space in your kitchen allotted for each appliance, but you'll also need to measure doorframes and hallways leading to the kitchen so you know you can move your appliances into place when the time comes.
Features: Your family's lifestyle and eating habits will influence the kitchen appliance features you consider. For example, if fresh produce is a must in your home, independently temperature-controlled produce drawers in your fridge may be high on your list. Or if you like to entertain, a larger oven or an expanded cooktop will add value to your lifestyle. Many companies are also making technological advances in appliances, so Wi-Fi connectability and pairing your appliances with apps may also come into play.
Efficiency Rates: If you want to keep your electricity bills down or otherwise go green, choosing appliances with great efficiency levels will be a priority. You'll want to look at the kilowatt-hours used per year and the annual operating costs of each appliance when you're comparing units. The EPA's EnergyStar rating system will help you with your research.
Finishes: Choosing the finish and color of your appliances is the fun part, but there are still practical things to consider. For example, if you have children in your home, the maintenance level of the material will take precedence. Stainless steel appliances in different colors and smudge-proof finishes still reign supreme for their long life and cleanability, but other choices in textured or smooth finishes are also available. Many appliances can also be fitted with a false front in the style of your cabinets for a seamless look in your kitchen.
Refrigerators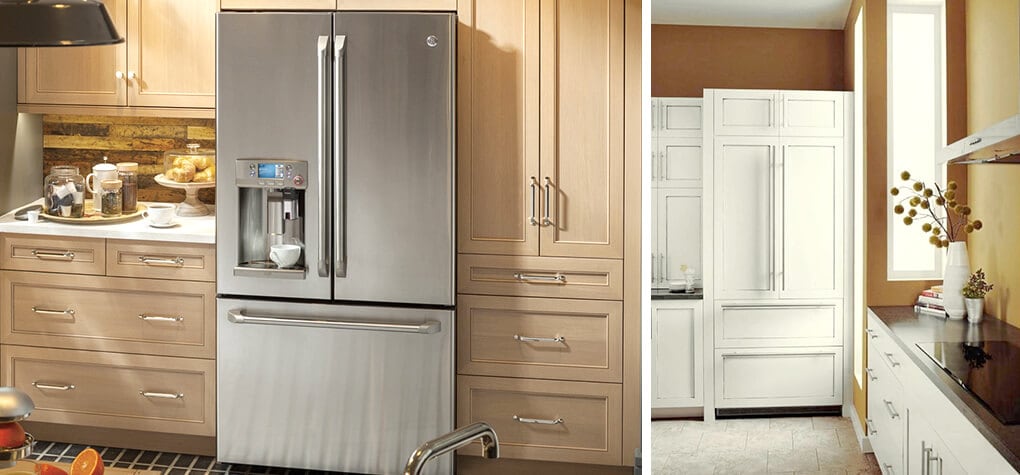 There's one thing all kitchens have in common — a refrigerator. Whether a fridge is basic or has all the bells and whistles, most people can't get by without a way to keep fresh and frozen foods, well, fresh and frozen. Consider size, features, and efficiency first as you choose the most important large appliance for your kitchen, then choose your desired finish. Look for the chart at the end of this section to learn more about average fridge sizes and capacities.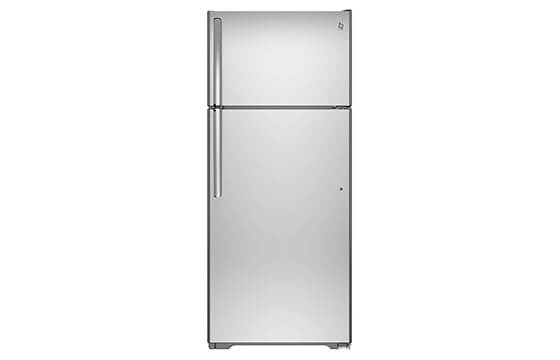 Top Freezer
A top freezer style is the most traditional fridge configuration with the freezer at the top and the refrigerator at the bottom. It's also the most budget-friendly fridge in the bunch. Additionally, these units come in a wide range of capacities, so you can find the size you need whether you''re a household of one or a household of six or more.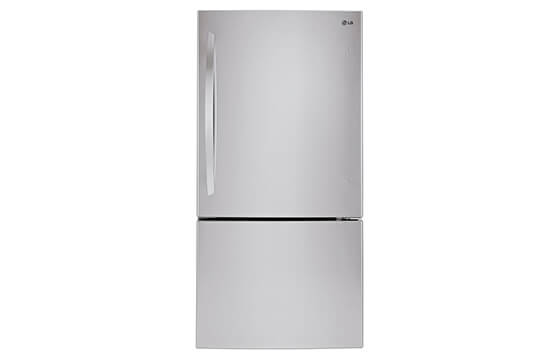 Bottom Freezer
The bottom freezer simply flips the traditional refrigerator configuration upside down. You'll have all of the benefits of a top freezer unit, but you'll gain at least one more potential benefit — easy accessibility to the fridge. Since most people access the refrigerator more than a freezer, having the fridge portion on top is more convenient. Most bottom freezers are drawers, but some units come with traditional doors as well.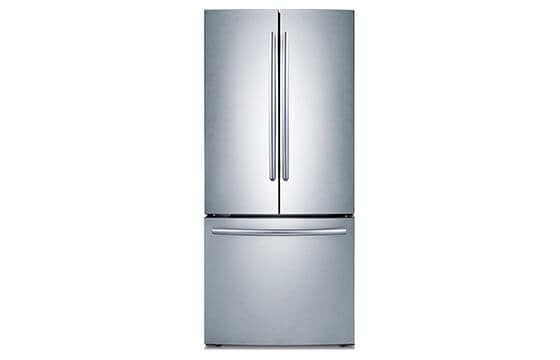 French Doors
French door refrigerators feature two fridge doors opening to one compartment up top and a freezer drawer below. This configuration means it's physically and visually easier to find the items you use the most. Plus, if you like to entertain, a French door fridge gives you wider shelves to help you store party trays and casserole dishes.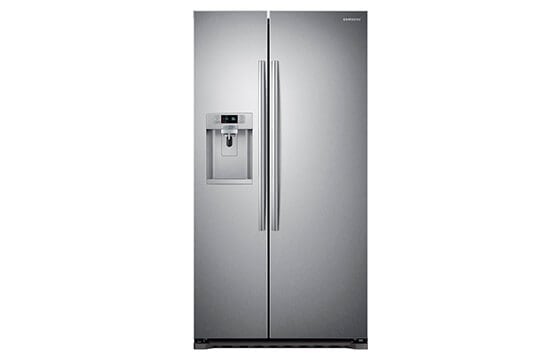 Side-by-Sides
With a side-by-side refrigerator, both your fridge and your freezer will run the length of the unit with the fridge on the right and the freezer on the left. This means the shelves on each side are narrower than a traditional fridge and freezer. However, the narrower doors mean you'll be able access your fridge more easily in a small or galley kitchen.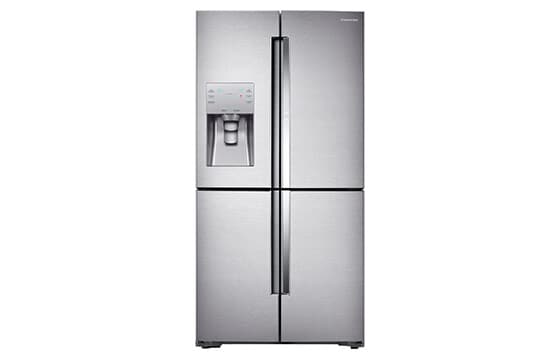 Counter-Depth
Counter-depth refrigerators are becoming increasingly popular on the kitchen scene. These units are not as deep as other refrigerators, so when they're installed, they sit flush with most existing cabinetry. The benefits include a seamless look that's similar to built-in refrigerators at a fraction of the cost. The average width of a counter-depth unit is wider than other refrigerators to account for loss of depth in the design. They also come in all types of door configurations.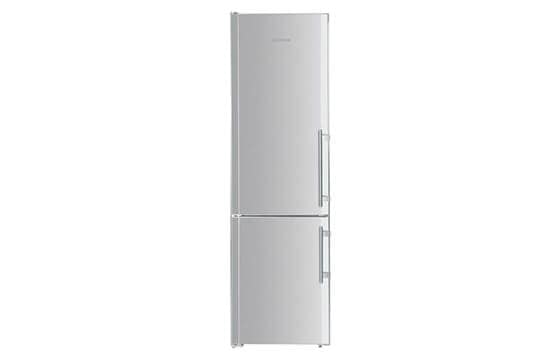 Built-In
If you're looking for a completely seamless look, built-in refrigerators are for you. These units come unfinished on all sides so you can install them within your cabinetry. It will truly look like just another cupboard in your kitchen. This polished look, however, does mean sacrificing a bit of fridge space since most built-in units tend to be narrower and shallower than any other fridge type.
Average Refrigerator Measurements
Plan for at least 5 to 6 cubic feet of storage space per person in your household
| Style | Height | Width | Depth | Capacity (Cubic Feet) |
| --- | --- | --- | --- | --- |
| Top Freezer | 65-68" | 30-36" | 24-32" | 10-25 |
| Bottom Freezer | 67-86" | 30-36" | 26-34" | 18-23 |
| French Door | 67-69" | 29-35" | 29-34" | 19-31 |
| Side-by-Side | 67-69" | 30-35" | 28-34" | 19-31 |
| Counter-Depth | 70-82" | 36-42" | 25-30" | 12-25 |
| Built-In | 65-84" | 24-48" | 24-30" | 15-30 |
Tap to view product details
Dishwashers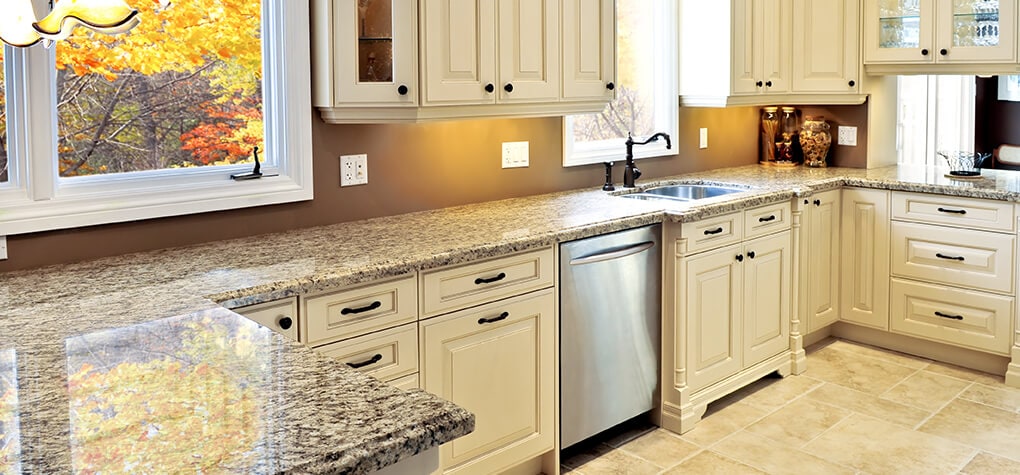 The main function of your dishwasher is, of course, washing dishes; but there are several features to consider before you purchase. Most budget dishwashers now clean just as well as their high-end counterparts, so your decision will more likely be on based run time, quietness, convenience features, finish, and price.

Convenience features have come a long way in the past few years. Some models include a soil sensor that adjusts the wash cycle according to how dirty the dishes are, ensuring the cleanest dishes in the least amount of time possible. Many have adjustable and fold-down racks, so you can modify the space for serving dishes, pots, pans or other odd-shaped items. Other features to look for include heat dry, flatware slots, filter type, hidden controls, and more.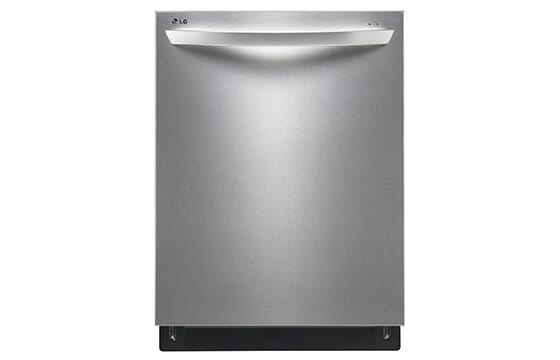 Built-In
Built-in dishwashers are by far the most purchased units and have the best range of features and prices. They fit under any standard counter and measure 24 inches square. These units have the traditional drop-down door with controls on the front, though some models offer hidden controls on the top of the door. Aside from the usual finishes of black, white, or stainless steel, you can also fit some of these units with panels to match your kitchen cabinets for a seamless look. Prices for built-ins range from about $300 to $2,000 with a 10- to 14-plate capacity.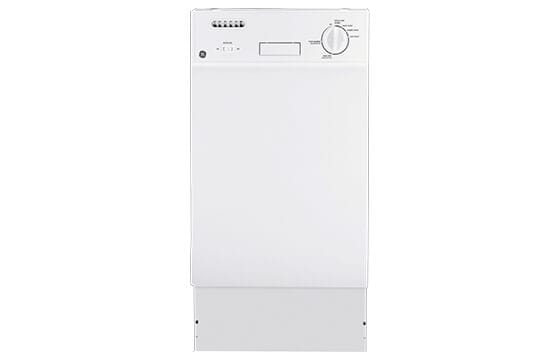 Compact
These models generally function similarly and include the same features as built-ins. The main difference is the size. While compact dishwashers still fit under countertops, they are only about 18 inches wide. This makes them ideal for smaller kitchens or for households with two or three residents. To make a compact work well for your household, consider purchasing one with adjustable racks. That way you can easily accommodate larger items without a larger dishwasher. Prices for compact dishwashers range from about $350 to $1,500 with an 8-plate capacity.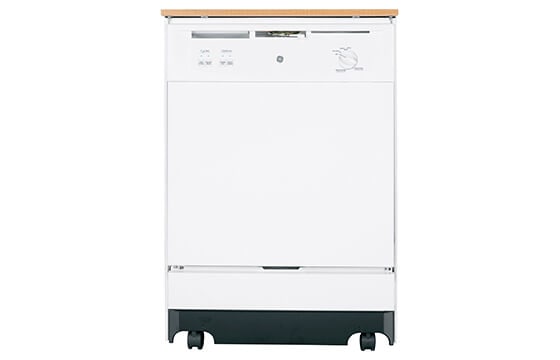 Portable
Portable dishwashers are ideal for smaller kitchens and rentals that don't have a dishwasher. These units are on wheels and hook up directly to your kitchen sink when in use, so you can move them around as needed to access different spaces. Usually portables will also include a butcher block on top, which means you'll have 24 extra inches of precious counter space for food prep.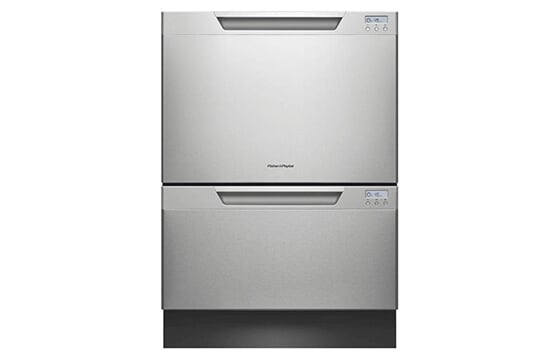 Drawer
Drawer dishwashers add flexibility when doing the dishes. Each drawer can be run separately, so you can run smaller loads when needed. Additionally, you don't have to bend over as far to open the drawers like you would with a traditional dishwasher, which may make doing the dishes easier for people with physical limitations. These units fit in a standard 24-inch space, just like built-ins. Single-drawer dishwashers are about 16 inches high and have a 7-plate capacity. They range from $600 to $900. Double-drawer dishwashers are the standard 24 inches high with a 14-plate capacity and range from $1,000 to $1,500.
Tap to view product details
Ranges & Ovens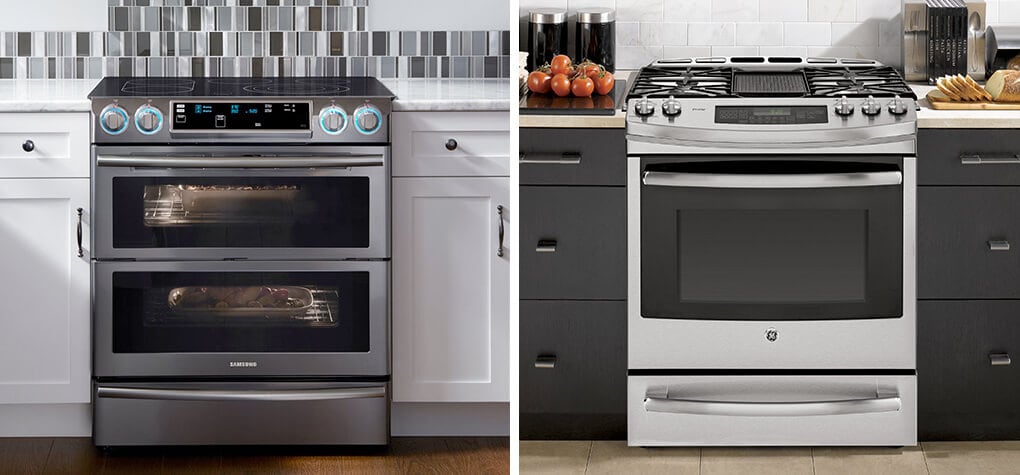 While some kitchens benefit from separate cooktops and ovens, a range is the easiest way to start cooking. In fact, it's easier than ever to choose a range that's right for you because you no longer have to choose between gas only or electric only. Options with duel-fuel, convection, and double ovens make ranges more versatile than ever. When you buy an all-in-one range, you can have your cake and eat it too. If you're also looking for a hood to go with your range, check out our Tips on Choosing a Matching Range Hood guide.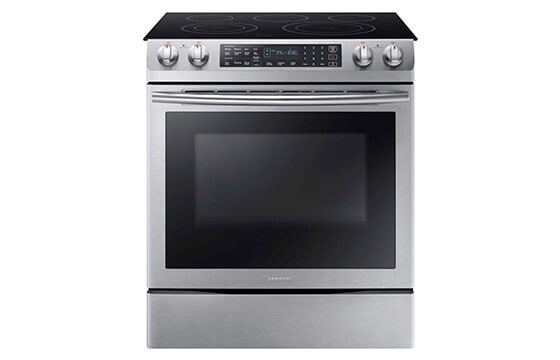 Electric Smoothtop
Ranges with electric smoothtops are arguably the most popular cooktops on the market. The cleanability of one even surface is the main reason why they're so popular because there are fewer nooks and crannies for spills, splatters, and crumbs to hide. Other features to look for in a smoothtop include a warming element in the middle of the range and expandable coils that can heat up a small or large area with one turn of a knob.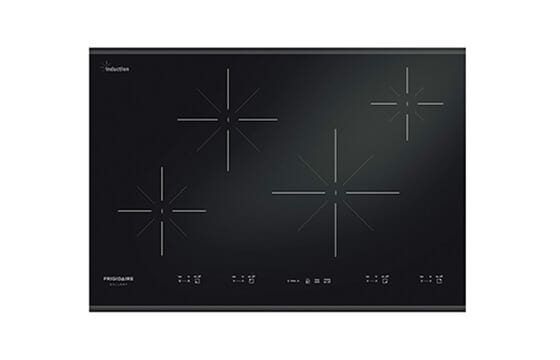 Electric Induction Cooktop
Induction cooktops were developed for precise heat control. The magnets under the smoothtop ceramic surface work to quickly generate heat directly into the pot. This reduces the radial heat of a standard-sized burner and targets only what you're cooking. However, special cookware that can interact with the magnetic cooktop is needed for induction to work, so buying new cookware may also be necessary.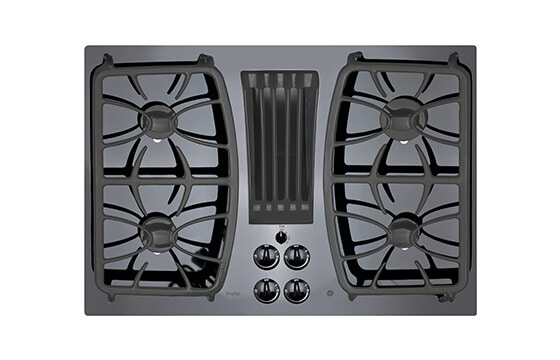 Gas Cooktop
With gas elements you can instantly set the heat from high to low, avoiding the time it takes for an electric element to cool down. Most gas cooktops have four burners with different British thermal units (Btu) outputs — from 5,000 Btu to 12,000 Btu — so you can easily adjust from big to small jobs on your cooktop. If you tend to have a lot of things going at once when you cook, look for a cooktop with a fifth element in the center of the range. Another bonus to cooking with gas cooktops: most can be lit with a match if the power goes out.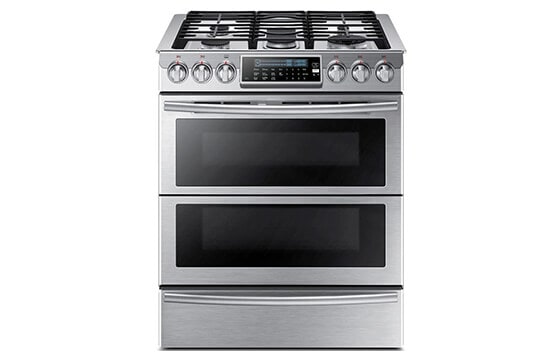 Dual-Fuel Range
With a gas cooktop and an electric oven, a dual-fuel range harnesses the best of two types of ranges. The gas cooktop gives you the precision of changing temperatures quickly, and the electric oven gives you a steadier and more even heat distribution when baking, broiling, and roasting. Both of these advantages will make your meal prep more precise and predictable.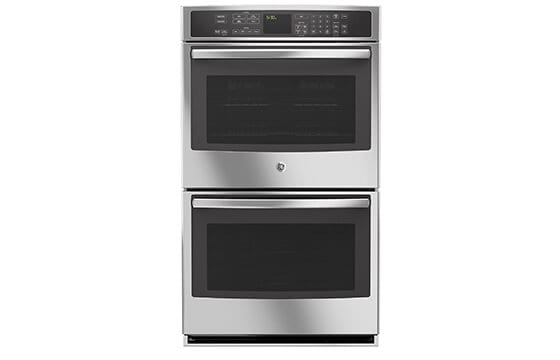 Double Oven
There are a few reasons why choosing a double oven could be right for you. The flexibility of two ovens is a major plus if you have a large family, if you host meals during holidays, or if you like to entertain. You have the choice between a standard-sized range with two smaller ovens or an extra-wide range with two full-sized, side-by-side ovens. If you choose the later, this means you will also have two or more extra cooktop elements or the choice of a built-in griddle.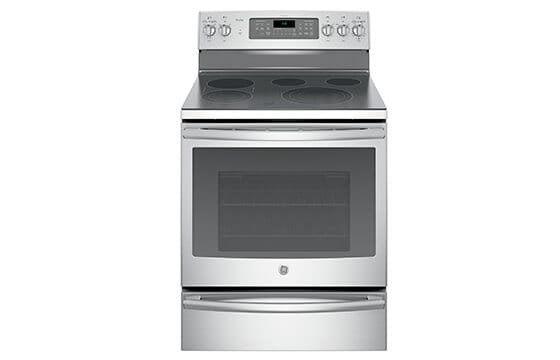 Convection Oven
A convection oven uses a fan and exhaust system to keep the temperature consistent and the humidity down in the oven. The advantages include faster cooking times, more even cooking, better browning, and lower electricity bills. Most convection oven models can also be switched to traditional oven settings at any time. Learn more in our FAQs about Convection Oven Cooking guide.
Tap to view product details
Microwaves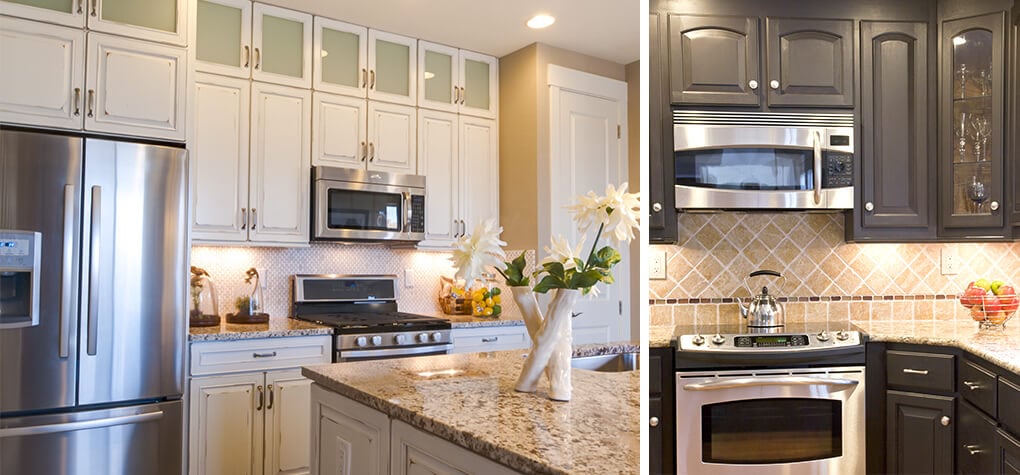 Whether you have a busy lifestyle or just want to speed up some of your cook prep, a microwave is a modern kitchen essential. When you're choosing a microwave for your home, your first consideration is space. Your kitchen floor plan may include room for a microwave-hood combo to be installed over your range, or it may include space for a built-in among your cabinets. However, most models will sit directly on your countertop, so the microwave size you choose will directly affect your counter space. Other features to consider include convection oven options, moisture sensors, inverter tech, and pre-programmed quick buttons that take you far beyond "popcorn." All microwave styles come in options that range from 600 to 1,200 watts.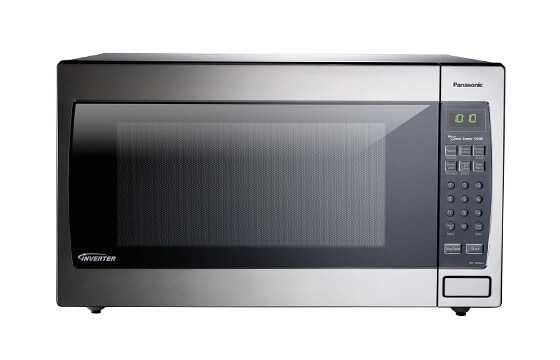 Countertop
Countertop microwaves are the most common models for a few reasons. They have virtually zero installation and come in several sizes and price ranges. The flexibility of these features often makes up for any loss of counter space in your kitchen. If you''re placing your microwave on the counter under your upper cabinets, pay special attention to the height of the unit you're buying. Midsized microwave capacities range from 0.5 to 0.8 cubic feet, and large units can be as large as 1.5 cubic feet.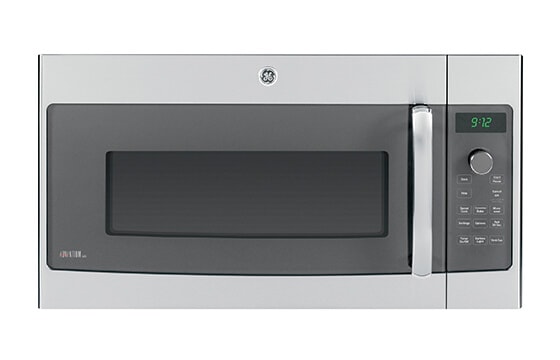 Over-the-Range
If you like your appliances to pull double duty, an over-the-range (OTR) microwave is the machine for you. OTRs double as a hood range and can be set up to vent outside. Installing an OTR over your range also means it's taking up no counter space, and you may save some money when you nix a traditional range hood. That being said, there is not an OTR microwave that can vent as well as a hood, so consider your cooking habits before you buy. You may also need an electrician to install an OTR. Capacity for these units comes in at 0.7 to 1.4 cubic feet.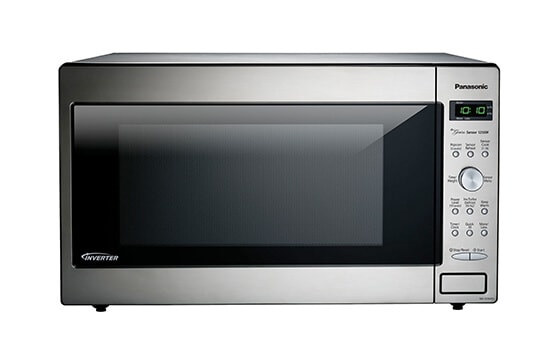 Built-In
Choosing a built-in microwave means you can opt for a more seamless look in your kitchen. These units are installed directly into the wall and then surrounded by your cabinets. Because built-ins can be put virtually anywhere in your kitchen, you can choose the best look and the most convenient location for your tastes and habits. For instance, a microwave installed at your eye level gives you incredibly easy access, or a unit installed right above or below a built-in oven creates a more seamless look. Built-in capacities range from 0.9 to 1.1 cubic feet.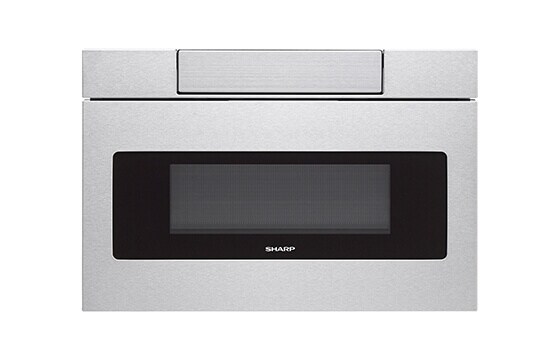 Drawers
Drawer microwaves are another great built-in option if you're goal is a streamlined look. These units are meant to be installed under your counter and look more like an oven than a traditional microwave. Look for options with hidden controls for an even more sleek look. Additionally, when installed at hip-height, these drawers become the most easy-to-use and convenient option. Drawer units come in a range of sizes — from compact to extra-large — so capacities range from 1 to 2 cubic feet.