Laptop Buying Guide
by Staff Writer
Published April 28, 2010 | Updated November 21, 2014
Today, many laptops are powerful enough to take over most desktop computing tasks, if not replace your desktop altogether. The main advantage of laptop computers is portability. A laptop lets you take your work, study, or entertainment with you anywhere. This laptop buying guide is here to help you learn what features to look for in a laptop computer that fits your needs.
Choose Your Laptop: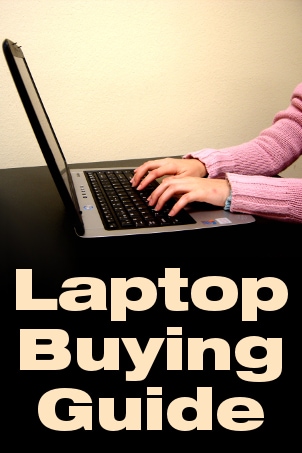 Shop Laptops ▸
Netbooks and tablet PCs:

The smallest laptops are made for frequent fliers or others who spend a lot of time traveling and need an extra-portable computer. They will efficiently run most office programs and Web browsers, as well as media players and basic photo programs. Tablet screens rotate and fold back over the keyboard or simply use a touch screen and forego the keyboard altogether. Netbooks and tablet PCs usually don't have an optical drive.
Features to look for
Storage: A small hard drive with around 200 GB.
Memory: A compact display (possibly a touch screen) of less than 13 inches.
Screen: At least one gigabyte of RAM, but usually less than 4 GB.
Balanced systems:

Most laptop users will want something in between compact and fully powered computers, a laptop that can be used for doing a little bit of everything but is small enough to easily take to class or work. With most midsize laptops, you can burn and play DVDs, surf the and handle digital photos and less graphic-intensive games.

Features to look for

Storage: At least 250 GB of hard drive space.

Memory: 2 GB or more of RAM.

Screen: A screen between 14 and 16 inches.

High-power desktop replacements:

Multimedia professionals and gamers need something bigger and more powerful than a compact laptop. A powerful laptop can replace a desktop computer, providing heavy graphics processing, a big display, and lots storage. These desktop replacement laptops aren't quite as portable as the others, since they have larger screens and generally weigh more. These laptops will play and edit movies as well as run the latest graphic design programs and high-end games.

Features to look for

Storage: 320 GB hard drive or bigger, with a speed of 7,200 rpm or faster.

Memory: 4 GB of RAM or more.

Processor: A fast, multi-core CPU.

Graphics: Built-in video card or graphics processing unit (GPU).

Widescreen: A large screen, 15 inches or larger, with a high native resolution.

Laptop Terms to Know

Processor:

The central processing unit (CPU) does all the calculations for running your laptop. Processor speeds are measured in gigahertz (GHz). Processors with multiple "cores" basically have multiple CPUs on the same chip. Speeds for multi-core processors describe the speed of each individual core.

Hard drive:

The hard drive stores software programs, music, video, and any other files in permanent memory. If you plan on storing lots of movies and music, you'll want a larger hard drive or an additional external hard drive. Your hard drive rotation speed is also important. A fast-rotating hard drive (say, 7,200 rpm) will improve the overall performance of your laptop.

System memory:

Random access memory (RAM) is one of the main components that will affect notebook speed and performance. More RAM will enable you to run multiple programs without slowing down your computer or to operate memory-intensive programs, like video editing and high-end games.

Screen:

Laptop screens use LCD displays. LED backlit displays offer better contrast and color depth, which is great for graphic design or entertainment laptops. A touch screen can also give you more articulated control than a mouse or touchpad. Notebook and laptop screen size is measured diagonally, running anywhere from below 10 inches up to 19 inches.

Battery:

Most laptop batteries on the market are lithium-ion batteries. Battery life depends on the components in your laptop and how many programs you're running simultaneously.

Optical drive:

Most new laptops come with a DVD+/-RW drive, the burner, which reads and writes blank DVDs and CDs in certain formats. These are handy for backing up your important files and creating custom music CDs or DVDs of your home movies. You may find a few of the smaller netbooks that don't have an optical drive to save on space and weight, but most notebook computers will have one.

External ports:

The number and type of external ports varies among laptops.

USB:Most notebooks and laptops will have at least a couple of USB ports, which many computers connect to.

Video:You might also look for a VGA, HDMI or DVI port for connecting to larger monitors, projectors and HDTVs.

Firewire:You might consider including a Firewire port for capturing video from a digital camcorder.

Memory card ports:Some new laptops also feature media ports, which read flash memory cards from digital cameras and other devices.

Networking:

A laptop's network interface controller (NIC) connects to wired and wireless networks. Nearly all laptops have an Ethernet port as well as built-in wireless networking. The latest wireless standards are 802.11g and 802.11n. You can also purchase wireless broadband cards for use with your cell provider's wireless network.

Save with Refurbished Laptops

Check out our wide selection of refurbished laptops. These cheap computers are factory-reconditioned, often getting new components and memory before being tested and resold. With refurbished laptops, you'll still get great performance, along with a wide range of options, at a lower price.