Kitchen Mixer Buying Guide
by Staff Writer
Many cooks' favorite kitchen appliance, the mixer, is used for many kitchen tasks. Mixing up dough for freshly baked bread or whipping up a quick batch of cookies for the kids is simple when you have a kitchen mixer. Stand mixers and hand mixers are very popular items with bakers. Mixers are designed with the cook in mind, which means they can come with many different options. This kitchen mixer buying guide will guide you through the available options.
Buying a Kitchen Mixer: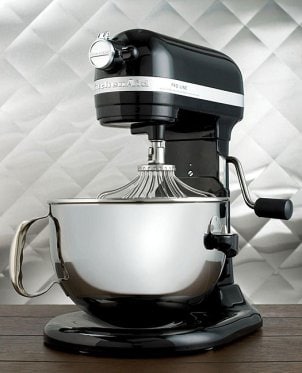 Shop Mixers ▸
Quiet operation:

Mixers should run as quietly as possible. As your machine mixes, the base shouldn't rattle or whine, and if it is running with the lid in place, more noise should be reduced.

Weight:

You don't want a feather-light machine, which is more likely to topple over. Instead, you want a mixer that is sturdy and built to last but still light enough to be moved to another counter or put away in a cupboard.

Speeds and controls:

The speeds and controls on your kitchen mixer shouldn't be complicated. Three speeds are generally enough, but you may want more, about six, plus a slow speed to reduce spattering. Controls should be clear and applicable to your intended uses.

Size and capacity:

Size and capacity will determine the amount of counter space your stand mixer takes up. You want a base that isn't too large but sturdy enough to still hold your machine and allow for the capacity you need. A 4.5-quart or 250-watt stand mixer is ideal for mixing cake batter and cookie dough. A 5-quart or 325-watt stand mixer whips up bread and pizza dough effortlessly, but if you make lots of homemade bread, consider the next size up: 6 quarts or 575 watts.

Beaters and attachments:

These extras greatly add to the overall performance of your mixer. Make sure the attachments and beaters will do the jobs you need. A typical home stand mixer will include a wire whip for whipping creams and egg whites, a flat beater for mixing batters and a dough hook for kneading.

Tip from Overstock.com

When you don't want to pull out your large mixer for egg whites or a small batch of cookie dough, use a hand mixer instead. Hand mixers are small, lightweight, hand-held mixers that you can store very easily and use with any bowl. Hand mixers should feel well-balanced, be comfortable to hold, feature three to six speeds and have removable, easy-to-clean beaters. You can get hand mixers, stand mixers and a variety of other kitchen supplies for incredible prices at Overstock.com.