Kitchen Decor Buying Guide
by Christina Wright
Sprucing up a kitchen by updating its style is an easy and inexpensive way to create or complete a new kitchen. The right kitchen decor can create an inviting space where you will want to gather with friends and family. Knowing which decorative elements to bring into your kitchen helps eliminate confusion and clutter. This kitchen decor buying guide will help you understand the major elements of kitchen decor and how to combine them for a style that is all your own.
Buying Kitchen Decor: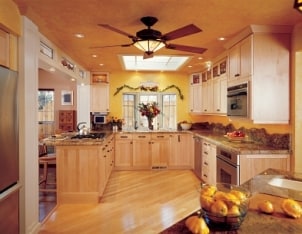 Shop Kitchen Linens and Decor ▸
Linens:

Kitchen linens include your tablecloths, table runners and cloth napkins. When decorating the table, remember that creating a beautiful table isn't just for dinner parties. Make each meal special by adorning your table with style every day. Look for kitchen linens that are washable, heat-resistant, absorbent, durable and machine washable.
Types of Kitchen Linens
Tablecloths: Tablecloths protect your table from the everyday wear and tear of life, whether you are protecting a glass-top table from fingerprints or a wood table from scratches. As one of the largest fabrics in your kitchen, the texture, color and design of your tablecloth make one of the biggest statements of style in your kitchen and dining space. Invest in several tablecloths to match holidays and seasons and to just change things up every once in a while. Tablecloths can be inspiration for other kitchen decorating ideas, so don't be afraid to try something new.
Table runners: Table runners are narrower than tablecloths, covering only the center strip of the table. Table runners are a fun way to add style to your dining area while protecting your table from the decorations and hot serving dishes set on it. You can use table runners with or without tablecloths; if you use both, the table runner should not hang below the tablecloth.
Cloth napkins: Cloth napkins add more than a touch of elegance to a meal. They can also add color and fun patterns and are appropriate for any occasion. Cloth napkins are an environmentally sound, stylish and fun addition to the table setting. They are easy to clean and store when not in use and always make a meal feel special.
Kitchen towels:

Kitchen towels are a must for any functional kitchen, and they provide a perfect opportunity to add some flair to your kitchen without making radical or expensive changes. Play up the colors in your kitchen by adding some matching or complementary kitchen towels. Don't be pattern-shy, either; because kitchen towels are the smaller fabrics in your kitchen, it's easier to try new designs with them without feeling overwhelmed by a new color or pattern. Like tablecloths, kitchen towels are easy and fun to periodically change according to holiday, season or mood.

Chair pads:

Linens make dinner special, but chair pads make it comfortable. Try new nonslip chair pads or choose more traditional tie-style kitchen chair cushions. Microsuede and soft chenille fabrics provide a comfortable seat, and the multiple choices of styles and patterns make finding the look you want easy and inexpensive, especially at Overstock.com. Save even more when you buy chair-pad sets.

Kitchen decor accessories:

No kitchen is complete without the little decor accessories that put your stamp on the most used room in the house. Kitchen decor items like placemats and napkin rings make dinner a little more special. Don't forget things like paper towel holders, soap dispensers and spoon rests that can be as beautiful as they are functional. Serving trays, centerpieces and hostess sets with matching sugar bowl, creamer, salt and pepper shakers and butter dish are just a few of the kitchen decor accessories that you could use to complete the look and feel of your kitchen.

Tips from Overstock™

Part of getting the perfect tablecloth is finding one that fits properly. In addition to measuring the width and length of your table, including leaves, you must decide on the length of your tablecloth's drop. The drop is the distance the tablecloth hangs over the table's edge. Drops should be at least 5 inches for informal tables, while 15 inches is perfect for more formal table settings. A drop of 8 or 9 inches is great for almost every occasion. If you decide on an 8-inch drop for your tablecloth, add 16 inches to the sum of the length and width of the table. This guarantees an 8-inch drop all the way around. Tablecloths may not exactly match your measurements; in this case, rounding up is usually better.