Kitchen Buying Guide
by Staff Writer
Whether you are moving into your first home or apartment kitchen or have decided to revamp your old one, a checklist of the things every kitchen needs can be very helpful. Luckily, this kitchen buying guide is here to help you remember the essentials and have fun with the extras. Remember to check out our other buying guides to learn more about each component of your kitchen.
Kitchen Appliances: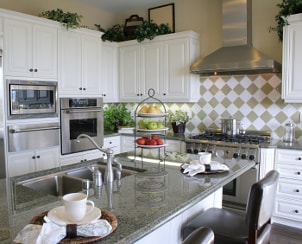 Shop Kitchen and Dining ▸
Essentials:

Kitchen appliances make food preparation and cooking easier. Staple kitchen appliances include the microwave, toaster, blender and mixer. With these four basic appliances, you can make, cook and reheat just about anything. All of these appliances come in varying sizes to accommodate your cooking style and available storage and counter space.

Extras:

Once you've stocked up on the staple appliances, decide if you need any nonessential or specialty appliances. Toaster ovens, coffee makers, food processors and juicers are examples of nonessential kitchen appliances. You may decide to swap a toaster for a toaster oven that can make toast and lots more. Specialty appliances are a fun perk in any kitchen; choose from ice cream machines, indoor grills, popcorn poppers, fondue pots, bread machines and more.
Cookware and Bakeware
Essentials:

Being equipped with the necessary cookware and bakeware items in your kitchen will encourage you to learn or perfect the recipes for your favorite cuisine. Pots and pans are absolute necessities in the kitchen. Have a few saute pans, skillets and sauce pans handy, as well as large pots for making stews and pasta. Deep pans, like lasagna and casserole dishes, and roasting pans will have you prepared to make any baked meal. Cookie sheets are great for more than cookies; use them for baking frozen pizza, chicken breasts or tenders as well as making your favorite chocolate chip recipe.

Extras:

You may decide to save time and money by investing in a cookware set. These come with all the basic pots and pans plus their lids. Bread pans let you bake homemade bread that brings good memories and costs a fraction of store-bought bread. Cake pans and muffin tins are bakeware that every dessert-lover needs, and they have a variety of uses besides the foods they're named after. If you cook a lot of frozen pizza or love to make it from scratch, consider a pizza stone or pizza pan.
Dinnerware
Essentials:

Don't let the sheer amount of dinnerware scare you. There are basic requirements for every kitchen. You need at least four dinner plates, four salad plates and four bowls. Many casual dinnerware sets include these essentials as well as four mugs or four tumblers to go with them. Serving pieces and table essentials, such as salt and pepper shakers, salad tongs, butter dishes and gravy boats, will complete the meal.

Extras:

In addition to your everyday casual dinnerware, you may also want formal dinnerware to host dinner parties or make a romantic dinner extra special. Formal dinnerware sets may or may not include a sugar bowl and creamer, serving bowls, matching casserole dishes, serving platters, a gravy boat or a butter dish. Formal place settings include a bread plate, teacup and saucer. Accent plates are completely optional, but they make a beautifully set table. Other extra dinnerware pieces you might consider include pitchers, punch bowls, cake stands and serving trays.
Glasses and Barware
Essentials:

Whether you decide to be formal or casual, you'll want to have a good selection of glasses and barware on hand. Formal to match your fine china or casual to use during meals, stemware includes red wine glasses, white wine glasses, goblets and champagne flutes. Mugs are essential items of glassware, especially if you live in a cold climate. Use them for coffee, hot chocolate, cider or soup. Read our wine glasses buying guide and glassware buying guide for more information.

Extras:

Dessert cups and bar glasses are excellent additions to your collection of staple glassware. You may also want to have more glasses, whether barware, stemware or regular drinking glasses, than you need daily to accommodate guests.
Flatware
Essentials:

You want to have enough flatware for everyone to have a knife, fork and spoon, and in some cases, a soup spoon and salad fork. Usually, the only silverware pieces you'll find for sale separately are teaspoons, since most flatware comes in sets. You can buy flatware by the place setting, which includes a knife, dinner fork, salad fork, soup spoon and teaspoon; or buy a flatware set, with service for six, eight or 12. Read our flatware buying guide for more information.

Extras:

Serving sets, hostess sets and entertainment sets include the flatware you need to serve family and guests, like a serving spoon, serving fork, cake/pie server and butter knife. If you have formal dinnerware or plan to serve dinner parties, invest in silver-plated or gold-plated flatware for added elegance.
Cutlery
Essentials:

One of the best investments you can make in your kitchen is your cutlery. If you have a good knife set, you will avoid a lot of headaches, and your food preparation will speed up. The knives you'll need and use most often are a paring knife, chef's knife, bread knife, cleaver, slicing knife and Santuko; there are several sizes of each, so select the size that works best for you. You'll also want to invest in at least two cutting boards to protect your table and counter surfaces -- one for meat and one for vegetables. Keep your knives sharp with a sharpening steel or stone.

Extras:

You can purchase all the cutlery you need individually or in sets; sets often come with knife blocks for easy storage. A set of steak knives will make it easier to cut Sunday steak and other meats, while a carving knife set will have you prepared to carve meat for holidays and family feasts.
Kitchen and Table Linens
Essentials:

No kitchen would be complete without table and kitchen linens; they protect your table, clean up messes and dry hands. Tablecloths protect your dining table surface with fancy, fun, simple and ornate patterns. Have at least two tablecloths on hand so you can change things up for a dinner party or by season. Kitchen towels let you dry dishes, clean up messes and dry hands. They come in many fun colors and patterns to match your style.

Extras:

Kitchen linens like place mats reduce spillage and help designate place settings, as well as add to your table's decor; have enough for the number of place settings you have plus a few extra just in case. Clean fingers and mouths with renewable napkins. Cloth napkins always add a touch of class and permanence to any meal; purchase enough for one per place setting, and don't forget the napkin rings. Table runners can be paired with a tablecloth or used alone for decorative purposes. As a general rule of thumb, always have more linens on hand than you think you'll need; at some point, you'll probably need them.