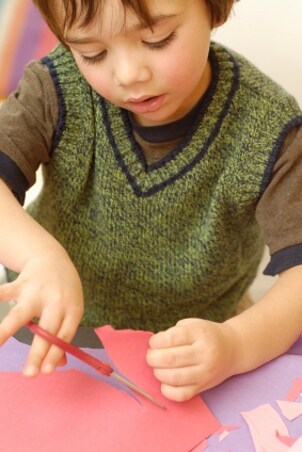 Keeping your child entertained can take a lot of creativity on your part, but with the help of kids' craft kits, it's a little easier. Learning a new skill helps to pass the time and gives children confidence in themselves. Crafts are even more fun when there is a holiday theme, and crafts help them participate in the holiday festivities. Help your children discover a new hobby that they will love for the rest of their lives and get into the spirit of the holidays at the same time.
Holiday Kids' Crafts:

Valentine's Day: Help your kids make personalized Valentine's Day cards for family members and friends with the help of colored construction paper, stickers, and markers. Most often, Valentine's Day craft kits include the paper, stickers, glitter, and glue necessary to make homemade Valentine's Day cards. Supplement this activity kit with craft scissors and glitter pens for truly unique holiday cards. Red, white, and pink knotting and tying sets for friendship bracelets are also popular Valentine's crafts.

Easter: Celebrate the coming of spring with kids' Easter crafts. Children love the time-honored tradition of coloring eggs for egg hunts, and most coloring kits are designed to be kid-friendly. Sock puppets and origami sets are perfect for recreating popular spring stories and decorating with paper flowers.

Mother's Day: Creating a beautiful necklace, earring, and bracelet set for Mom with the help of jewelry kits is one way a child can show his or her love. Making candles and soaps with the help of craft kits is another gift that is sure to please Mom. Kids can even make her a personalized decorative bowl with the help of paint pens and other specialty kits.

Independence Day: Enjoy the fireworks display this year with patriotic kids' crafts. Look for beading and jewelry sets in the iconic red, white, and blue, or try paint-by-number window hangings or sketch books that display elaborate fireworks. Red, white, and blue tie-dye kits turn plain T-shirts into parade-worthy wear or old napkins and tablecloths into summer barbeque decor.

Halloween: Make room for the scary and ghoulish with kids' Halloween crafts. Let your children's imaginations run wild and help them design and create their own Halloween costumes with the help of a sewing kit. Other craft supplies, like glitter pens and paint pens, are perfect for decorating a fairy mask or embellishing a superhero outfit. Face paint is a popular Halloween kids' craft, especially if the set teaches your kids how to paint well-known monster, witch, or hero faces. With a Halloween beading set or origami set, your kids can make spooky spiders and webs for the front porch. A fabric activity kit might make hanging bats or cobwebs for ceilings and corners.

Thanksgiving: Teach your kids an attitude of gratitude with kids' Thanksgiving crafts. Kids can create seasonal fridge decorations of turkeys and cornucopias with basic finger paint and craft paper sets, or they can while away the hours with crayons and coloring books of Pilgrims and Indians. Let them help you prepare the feast after they've personalized their very own aprons or decorate the dining table with a cornucopia and fake foods they made themselves with knitting or crocheting kits.

Winter Holidays: Share the joy of gift-giving with kids' Christmas crafts. Children can decorate the tree with homemade ornaments, such as crocheted stars or paint-by-number ornaments; they'll love seeing their handiwork on the Christmas tree and knowing they can pull it out again next year. With the help of a crochet kit, your child can make her very own beanie, hat, or scarf to protect her against winter weather. Another kit your child may enjoy is a toy kit. All of the necessary pieces for a cuddly toy, including stuffing and accessories, come with the box.
Kids' Craft Tip:

A child should wear protective clothing -- an old apron is a good choice -- when using potentially messy art and craft supplies and should always be supervised by a responsible adult.

Buy Kids' Crafts
Back to Guides Directory