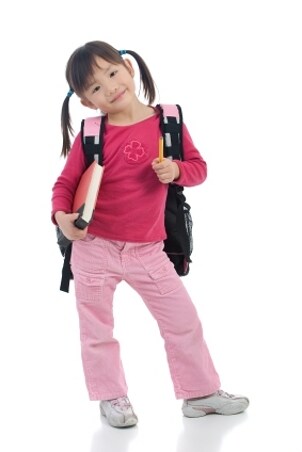 Choosing the right kids' backpacks for your children is the first step to helping them enjoy school or packing for a trip. The best backpacks are extensions of your child's personality, and if the two don't mesh, your child will have a harder time remembering to pack assignments for school or pajamas for the trip. To help you know what to look for in kids' luggage and bags, Overstock.com brings you this guide about how to choose kids' backpacks your youngsters will love.
Choosing Kids' Backpacks:

Personalized: Personalized backpacks are always a hit, especially with kids. Have kids' backpacks personalized with single or combined initials or with their first names embroidered on the front pockets. Many personalized backpacks are plain black backpacks with embroidered letters and names, although you can find personalized school backpacks in fun colors and designs, too. Your kids will love using their personalized backpacks, and you will love being able to spot them in the crowd when you pick them up after school.

Favorite characters: School backpacks decorated with your child's favorite animal, movie character or cartoon show are easy to find and always please. Girls' backpacks often have themes of flowers or princesses, while other kids' bags might sport characters from the newest animated or action movie. Rolling backpacks usually have many of the same great themes and characters as regular backpacks, so your child can be stylish with a wheeled bag and with her favorite theme.

Fun designs and colors: If your children are old enough to forego the favorite character on their kids' bags or don't want a personalized one, buy backpacks in fun designs and colors instead. Girls' backpacks are most often found in shades of pink with designs of bubbles or glamorous things. Boys might prefer black backpacks with interesting patterns or rolling backpacks with glowing wheels.

Interesting shapes: For young children, buy backpacks in interesting shapes, such as turtles or cats. Shapes are easier for young kids to recognize than personalization or designs, and the best backpacks have a texture, too, to make the bag even more fun.

Buy Kids' Backpacks
Back to Guides Directory