Jewelry Box Buying Guide
by Staff Writer
Stunning diamond earrings, an armful of gold bangles, your first pearls and your beautiful wedding rings: Jewelry has emotional value as well as monetary value, and you want to keep your treasures safe by storing them in a jewelry box. Good jewelry cases are available in many shapes, sizes and materials, and buying jewelry organizers can be frustrating if you are not sure of what you need. Jewelry storage options are an important part of any wardrobe. Jewelry cases protect your jewelry and watches just like dressers and closets protect your clothes and other fashion accessories. Of course, a well-organized closet makes it easier to take care of a clothing wardrobe, and well-organized jewelry storage will do the same for your gold, diamonds and pearls. To choose a good jewelry case, wooden box, jewelry stand or keepsake box, consider the construction, materials and design of the case or box. This jewelry box buying guide is designed to help you sort through the options and make a more informed buying decision.
Buying a Jewelry Box: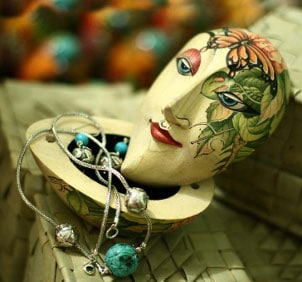 Shop Jewelry Boxes ▸
Materials:

Attractive and durable jewelry boxes can be made from many materials; however, a heavy wooden box is one of the best choices for a jewelry case that will last. Leather boxes can also last a long time with proper care. The interior compartments should have satin or velvet linings. The fabric linings won't damage delicate gemstones or pearls and will help hold each pendant, bracelet and charm in place.

Construction:

Any jewelry organizer should be designed for security. Drawers should fit tightly and doors should click shut. The top lids need strong hinges to hold them in place so they won't fall on your hands. Jewelry armoires and some keepsake boxes may have locks for added security. Jewelry stands, such as necklace and earring stands, should have a wide base to prevent the stand from tipping over.

Compartments:

A jewelry box or jewelry armoire needs a separate section for each type of jewelry; otherwise, the different materials and clasps will damage each other when they come in contact. Each necklace and chain needs its own compartment or hanging hook. Bracelets may sit in drawers or be wrapped around fabric-covered tubes. Ring compartments should have slots to hold each ring securely. Earrings should be hung by their hooks or posts and should each have a separate hole.

Design:

The design of a jewelry box just needs to suit the owner's preferences. You may want a jewelry box that complements your home's decor. Pretty boxes made of porcelain or precious metals are often too delicate for extensive use and are better used as decoration.

Men's jewelry storage:

Men have many options when it comes to jewelry and watch storage. Many jewelry boxes are not gender specific. Almost any jewelry box can accommodate men's jewelry, including rings, bracelets, earrings, pendants and chains. Small jewelry box compartments can also hold cuff links, and slots for post-back earrings can hold tie tacks. Wooden jewelry boxes with rich walnut or mahogany finishes make great boxes for men. Leather jewelry boxes are also perfect for men; these boxes will accentuate masculine decor. Some men's jewelry boxes also have special compartments for watches.

Original boxes and pouches:

A jewelry box keeps all your fine and fashion jewelry in one place, making it easier to find and reducing the risk of loss. You may want to keep the packaging and pouches that originally boxed your jewelry, anyway, especially if those containers are of high quality. If you have an especially delicate gem, you may want to keep it separate from your other pieces. You can also use these extra boxes when traveling.

Children's jewelry boxes:

Many women have fond memories of their pink ballerina boxes that held each ring, pendant and stud earring from childhood. Just as young ladies outgrow their baby lockets, they outgrow their jewellery boxes, too. The early teen years are an excellent time to introduce a daughter to a jewelry box that is designed to last into her adult life. Many girls receive their first pieces of fine jewelry -- a pearl necklace, diamond earrings -- as teenagers, and they need a place to store these items. Giving a young lady a well-made jewelry box teaches her proper care and storage of luxury goods. Young men also need to care for expensive accessories. When giving a son or nephew a nice watch, consider giving him a watch box to keep all his watches in like-new condition.