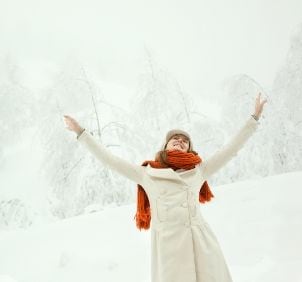 The birthstones for January symbolize health, emotional strength, wealth and even love. Fortunately for you winter babies, garnet and rose quartz are beautiful gems that you'll want in your jewelry collection, whether or not you believe they have healing properties.
Garnet:

Garnet lore: Fiery red garnet has long been a comforting talisman to the darkness of late winter. People of the Ancient Near East thought garnets resembled pomegranate seeds and, like pomegranates, the stones came to symbolize prosperity and good health. Their brilliant reflection of light also symbolized protection for travelers who wore the stones during their journeys. In 1912, the American Gem Trade Association approved garnet, long considered a winter gemstone, as the January birthstone for its official birthstone chart.

Where it comes from: Garnet is a common gemstone found all over the world.

Colors and variations: This gemstone features many varieties and all of the gem colors except blue, but red is the birthstone color. Most of the garnets used in jewelry are pyrope stones, which have the favored warm blood-red color. Almandines have pinkish red color and are often dark. Rhodolites have pinkish red or red violet color.

Garnet jewelry: Garnet is used extensively in jewelry design, especially in rings, earrings and pendants. Contemporary designs are usually set in sterling silver or white gold, but many rings still feature yellow gold, which complements the gem's warm color. Red garnet jewelry from Bohemia was popular in the 18th and 19th centuries and featured elaborate designs set in yellow or rose gold. To get the vintage look, search for estate rings, necklaces and earrings or find antique-style chandelier earrings.
Rose Quartz:

Rose quartz lore: Wear rose quartz and open your heart to love. The mystical properties of rose quartz promote love and emotional healing, encouraging forgiveness and reducing feelings of loneliness. Many people who embrace the special powers of gemstones have promoted rose quartz as an alternate January birthstone for several decades.

Where it comes from: Rose quartz deposits exist in Madagascar, Brazil and the United States.

Colors and variations: The gem itself is a quartz stone ranging in color from pale to rosy pink. Translucent stones are rare, and most rose quartz gems are opaque, with a cloudy appearance shown best in carved beads of many shapes.

Rose quartz jewelry: This gemstone most often appears in earrings and necklaces. If you want pretty rose quartz earrings to coordinate with everyday outfits, look for designs with dangling teardrops, called briolettes, or clusters of round beads. Rose quartz necklaces and bracelets often feature clusters of gemstones mixed with pastel pearls; a necklace may have dozens, even hundreds, of small gems. Consider shopping for authentic world jewelry if you want one-of-a-kind birthstone jewelry. Artisans use rose quartz, sometimes paired with amethysts or peridots for contrast, in a lot of handmade designs.

Buy January Birthstone Jewelry
Back to Guides Directory