iPod Buying Guide
by Staff Writer
The whole iPod family of digital music players is still one of the most popular electronics on the market. The world of iPods and MP3 players is constantly changing, with new, updated digital audio devices being released all the time. With each new generation, players like the iPod Shuffle, iPod Nano and iPod Touch add more features and bigger storage capacity. This iPod buying guide will give you some basic information to help you narrow down your iPod choices, even in the midst of all the latest releases.
Buying an iPod: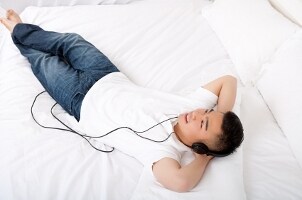 Shop iPods ▸
Flash memory and hard-drive storage:

Your iPod stores music, movies and other files in digital memory. iPods with fewer gigabytes of storage use flash memory, which has no moving parts. iPods with larger storage capacity use hard drives, which do have moving parts. This larger storage gives you more space for music and video files, but it makes your iPod more susceptible to damage or skipping during playback when jolted.

Generations:

Apple is constantly changing the iPod. Since its inception, new models have been introduced and updates to those models have been released. You'll see iPods labeled by generation, each successive model having different features, new design and a larger storage capacity. The later the generation, the more advanced the iPod.

Style and color:

Each new generation of iPods comes with a new form factor and updated color options. You can choose from as many as eight colors for recent generations of iPods. That's enough variety to match anyone's style.

iPod Shuffle:

This is the smallest and simplest iPod model available on the market and usually features a built-in clip for attaching to your clothes or bags. An iPod Shuffle doesn't feature a view screen like all other iPods, so it won't play video.

Memory: Maximum storage capacity for the latest model is about 4 GB, or about 1000 songs.

Controls: The iPod Shuffle has controls for skipping forward or back, play, pause and stop. Newer generations allow you to choose to play your songs in order or shuffle them randomly.

File storage: Your iPod Shuffle can store other file types, acting as a portable drive.

iPod Nano:

The iPod Nano is the next largest in the iPod family. The Nano features a view screen for watching video and the classic control wheel for navigating menus and playlists.

Memory: The larger iPod Nano model holds up to 16 GB of songs and video.

Cameras: Later models feature a built-in camera for capturing still photos and video.

iPod Classic:

The original iPod has come a long way since it was first introduced, but its larger size, color screen and larger storage capacity are what continue to make it classic. iPod Classic is larger and heavier than iPod Nano, so they usually aren't the first choice for a workout media player. The spinning hard drive tends to skip when jolted during running. iPod Classic is designed for true music and video enthusiasts.

Large memory capacity: You might have a hard time filling all 80 or 160 GB of the later iPod Classic models, the larger model being a bit thicker.

Longer playback: With an even larger screen and longer battery life than any other iPod model, you can watch hours of video, or have long listening sessions without recharging.

iPod Touch:

With the release of the revolutionary iPhone, Apple decided to create an iPod with the same design and versatile touch screen. You can access control menus, playlists and applications with a swipe of your finger. The vibrant screen covers nearly the entire front surface of the device, giving you a huge view screen for movies and TV shows. What really sets the iPod Touch apart, however, is its wireless networking capability, which enables you to connect to wireless networks and access the Internet with a hand-held portal.

Memory: You can purchase an iPod Touch with a capacity of up to 64 GB. All utilize flash memory and allow you to play music and view videos and photos.

Wide touchscreen: The iPod Touch has a 3.5-inch widescreen touch display.

Connectivity: Wireless technology makes the iPod Touch compatible with nearly any wireless network.

Ideas from Overstock™

If you want to save money on a quality digital music player, consider getting a refurbished iPod. Refurbished portable MP3 players have been lightly used or demoed before being factory reconditioned to like-new condition. Overstock.com has a variety of refurbished iPods at great prices.