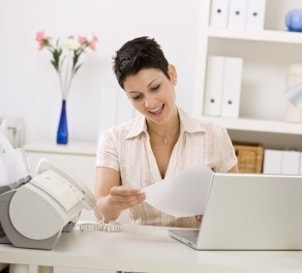 Whether you want to print your digital photos, some homework or a hard-copy of a presentation for work, having a printer to go with your computer is a necessity. For all-around printing quality and affordability, it's hard to beat an inkjet printer. This inkjet printer buying guide will give you the knowledge you need to choose a great inkjet printer that provides great prints at a low cost-per-page.
Buying an Inkjet Printer:

Color printers: Inkjet printers use colored ink cartridges, so the same printer can do both black-and-white printing and color printing. Color inkjet printers may feature one combined ink cartridge for all colors or separate printer cartridges for each ink color: magenta, cyan, yellow and black.

Dots per inch (dpi): Formally speaking, dpi is the "resolution" at which your inkjet printer prints documents and images. The more dots in your printed image, the less grainy and distorted the final print will be. 300 dpi and 600 dpi are fine for text-only documents. Photo printers producing high-quality prints will need a higher dpi rating.

Printing speed: Many inkjet printers can produce a very nice-looking page. If you plan on printing documents with many pages, this is an important feature to look at. Many inkjet printers can reproduce a color image so that it looks sharp and vivid. How quickly your inkjet printer can produce those prints is another matter. Black-and-white printing is nearly always faster than color printing. Text-only documents print much faster than photos and other color images. You'll see printer speed listed separately for monochrome and color printing as pages-per-minute (ppm).

Ink cartridges: Printer ink cartridges are often overlooked while shopping for inkjet printers. While almost every new printer will come with an ink cartridge, you will need to buy new cartridges before long. Of course, the more printing you do, the faster you'll use up inkjet cartridges.

Cartridge Types

Combination cartridges: Some inkjet printers take a single ink cartridge that contains all of the ink. These cartridges are convenient to swap out. But few photos use all ink colors equally, which may lead to your replacing a cartridge before all three colors have been used up.

Separate cartridges: Inkjet printers that use separate cartridges for each color are more ink-efficient, resulting in a lower cost-per-page.

Installation: A USB cable is the most common way to connect your computer to your printer. For extra flexibility, look for a printer with networking capacity, such as an Ethernet connection or a wireless connection. With your printer connected to your home or office network, you can print from any device connected to the network. Your printer may also require some additional software to be installed for your computer to use it.

Buy Inkjet Printers
Back to Guides Directory