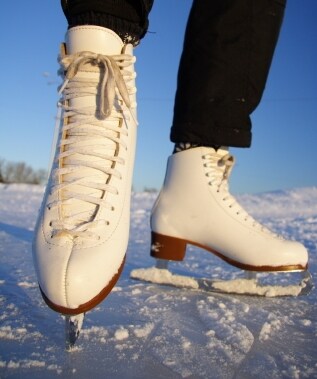 Buying a pair of ice skates opens up a world of fun possibilities. Gliding around a frozen pond or local ice skating rink with a pair of ice skates is one of the most popular winter activities around. Hockey skates have also become must-have winter sport items. In fact, ice skating has become a winter trademark in a number of different sports, including figure skating, ice hockey and speed skating. Whichever winter sport you choose, knowing how to Buy Winter Sports Equipment will help in choosing the right pair for you.
Figure Skates:

Sizing: Figure skates should fit snuggly on your foot and must be the correct skate for your skill level. This is rather critical to your performance on the ice. Many manufacturers of figure skates now have figure ice skates in sizes that relate to shoe sizes. This makes finding the properly sized ice skate much easier.

Figure Skate Sizing:
Measure both feet when figuring out your shoe size, in case one foot is larger than the other.

Measure for foot width while in the sitting position.

Remember the socks you plan to wear. While skating, thin socks should be worn.

Some brands will vary in their sizing and fit slightly differently.

When you receive your figure skates, try them on before having the blades sharpened.

Lace both boots firmly, with most of the lace pressure at the top four eyelets. This creates a more secure fit for ice skating.
Hockey Skates:

Hockey: Hockey is a fast-paced sport, and hockey skates shouldn't slow a player down. When looking for ice hockey skates, hockey players need to consider their ice skates as an extension of their feet. Like shoes, it should be natural to wear them because hockey skates are the most important piece of equipment you will buy.

Boot: The majority of hockey skates are made with a combination of leather and synthetic materials to increase durability, performance and comfort. The exact mixture of the components, such as Kevlar and graphite, will determine the quality of the skate and the cost. For better protection against pucks and hockey sticks, as well as more support for your ankles, try hard plastic boots.

Goalie skates, the hockey skates worn by goalies, are similar in construction to regular hockey skates; however, they are designed with a wider blade and lower boot for more ankle and foot protection.

Blade: Hockey skate blades are made out of steel and have a hollowed out, or concave, shape. The blade radius is the amount of blade that is in actual contact with the ice, and it is an important factor in a hockey skate's performance. The radius is measured by placing both blades together, bottom to bottom, and holding the blades up to the light. Where the blade edges touch is the blade radius.

For beginners, you will want a blade radius of about 5 inches, which increases your ability to propel yourself forward or backwards along the ice while giving stability. For help in cutting and turning, look for a blade radius of 3 to 4 inches, and if you are a forward, you'll want a shorter blade radius to aid with maneuverability. Defensemen will want to look for a longer blade radius for extra stability. Goalies use a larger blade radius and have a less hollow grind. Players can grind their hockey skate blades (sharpen the edges), which creates a double edge for added contact with the ice; the deeper the grind, the more maneuverable the skate.

Sizing: Choosing the right size of ice hockey skates is a bit different than choosing sizes for figure skates. Hockey skates need to be tighter for more stability and less chafing. You'll also be wearing thicker hockey socks with your hockey skates. Parents: Don't purchase larger hockey skates for your kids to "grow into" because this will stand in the way of their ability to learn, and it could also hurt their feet and ankles.
Ideas from Overstock.com:

Bundle up: Especially if you ever plan to skate outdoors while ice skating, be sure to have plenty of winter clothing to keep you warm. It's hard to have fun ice skating if you are freezing the entire time.

Stay fit year around: If you want to get serious about figure skating, speed skatingor hockey, you'll want to be in prime physical condition. You can skate in indoor ice skating rinks all year, but it wouldn't be a bad idea to fit in some other activities as well. Try different kinds of sports and exercise to add some variety and keep you physically prepared.

Buy Winter Sports Equipment
Back to Guides Directory