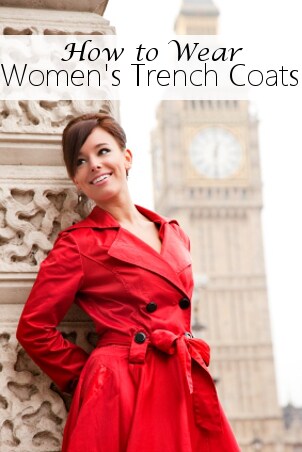 The perfect outerwear for spring and fall, trench coats are a classic you can wear year after year. They're one of the most versatile women's coats, but if you're only wearing yours on rainy days, then you'll want to try some of these other ways to style a trench.
Ways to Wear Trench Coats:

Nautical and nice: One classic meets another when you wear a trench with a nautical-inspired outfit. A striped sailor shirt with dark jeans or a red-and-white striped mini-dress with black leggings under the coat will always be in style. Pile on gold jewelry to make the look a bit more modern, if that's more your taste.

Neutrals now: A little black dress, black skinny jeans and a white shirt, or a khaki shirt dress: Any of these neutral outfits would be perfect with your trench coat. If you're thinking about trying the jumpsuit trend, look for one in a basic color and top it with a trench for a chic look. And don't forget: Leopard print counts as a neutral.

In full color: Although a beige, grey, or black trench coat may be the first thing you think of, you can find them in many other colors. A red, navy blue, pink, mint green, or plaid trench could be a fun way to add interest to your cold-weather wardrobe. If most of your wardrobe is fairly neutral, then you can add a splash of color to your rainy day look with a colorful coat. If you already wear a lot of color, then take it to your coat with something bold.

Dress it up: A trench coat has a structured look to it, making it a good choice to wear when you're wearing a dress. The best length for your coat will be just above the knee.

Dress it down: The structure of a trench coat makes it always look a touch formal, so when you wear it over jeans and a T-shirt, you take a casual look and make it look more pulled together. A weekend look that might be sloppy with another jacket is suddenly very fashionable when you wear it with a trench.
What Do You Want to Do Next?

Shop for Women's Coats
Shop for Plus-Size Coats
See All Women's Outerwear
See All Guides
Read More Clothing & Shoe Guides
Learn More about Outerwear