by C.D. Crowder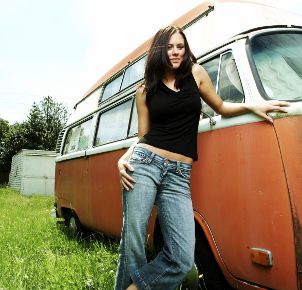 Looking for a flattering pair of jeans? Straight-leg jeans fit similarly to skinny jeans, but they have a larger opening in the calves and ankles, making them easier to wear. Straight-leg jeans work well with most types of tops and help give your legs a longer look. Try these women's jeans on for size and follow these tips to find the perfect pair, plus the accessories and clothing to go with them.
Wearing Straight-leg Jeans:

Determine the right length of straight-leg jeans. The average length of women's straight-leg jeans covers heights from 5'4" to 5'8". Short lengths cover heights from 5' to 5'3". Tall lengths cover heights from 5'9" to 6 feet tall. If you plan to wear your straight-leg stretch jeans with boots or heels, you may want to choose a longer length so that your jeans cover most of your feet.

Choose your waist type. Tummy-control, hip-hugger, low-rise, regular-fit and extremely low-rise waist types are available. Tummy-control waists have a panel that helps control the appearance of belly fat. Regular-fit waists place the waistline around the waist or only slightly lower with a loose fit. Hip-hugger and low-rise women's jeans fit near or slightly below the hips with a snug fit. Extremely low-rise styles fit 2 to 3 inches below the hips. If you have a curvy stomach or hips, straight-leg stretch jeans may be more comfortable to wear.

Choose a fabric type and color. Many women's straight-leg jeans fit snugly, but jeans with a bit of stretch offer more flexibility. Regular straight-leg jeans fit looser and have less flexibility. Choose dark-colored denim to appear thinner. Medium washes work well for most women as well.

Accessorize your straight-leg jeans for the most flattering look. Disguise problem areas by wearing fitted or loose tops to draw attention to the top half of your body. Choose a top that is flattering to the top half of your body, as most tops work well with straight-leg jeans. Appear slimmer by wearing belted tops or fitted tops that don't fit too tightly. Add colorful jewelry or bright belts to draw attention to either your top or bottom half.

Wear heels, flats or sneakers with straight-leg jeans. Most shoes will flatter this jean style. Look for tall boots with large openings to prevent your jeans from bunching.
Women's Jeans Tips:

Average and tall lengths can be hemmed or cut to fit for shorter legs.

Each maker's sizes and lengths vary. Some makers also make special-order sizes and lengths.

Extremely low-rise waists tend to accentuate problem areas in the bottom and hips. Regular fits cover many of these problem areas.

Buy Women's Jeans
Back to Guides Directory