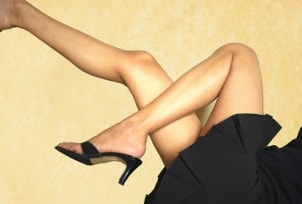 Dressing for the holiday season can be tricky, but with the right skirts in your wardrobe, you can look polished and pretty for the holidays. Whether you're looking for skirts to wear to the office or something to impress at a holiday party, there's a skirt for every occasion this holiday season. From short and sassy to long and classy, the following tips can help you find the right skirts to wear this holiday season and how to wear them.
Wearing Holiday Skirts:

Show off some legging: The easiest way to make skirts wearable for winter, especially shorter skirts, is to layer leggings or tights underneath. A cute pair of leggings or tights will keep your legs warm and give you an added layer of style to play with. Try brightly colored tights, like red, purple or pink, underneath a basic miniskirt this season for a look that really pops or give your look a bit of glam with metallic or sparkle leggings.

Glitter and glam: If you're heading to a few parties this holiday season, you'll want a chic skirt to show up in. Dazzle in a sequined miniskirt perfect for the season or pair a solid skirt with glittery accessories, like a rhinestone belt, sequined sweater or standout jewelry. A classic circle skirt is the perfect style for parties, especially when paired with retro pumps.

Perfectly plaid: If there is a time to wear plaid, the holidays are it. Whether it's a miniskirt, knee-length skirt or a longer skirt, a plaid skirt will get your wardrobe holiday ready in no time. Play with different patterns and colors of plaid and pair it all with cozy sweaters, scarves and mittens for a comfortable, warm holiday look.

Long and lean: Skirts aren't always the warmest piece of clothing in your wardrobe, but when it comes to long skirts, you don't have to sacrifice comfort for fashion. The longer the skirt, the warmer it will be. Try a knee-length pencil skirt or a denim maxi-skirt for the toastiest style. The key to wearing longer skirts is to keep them simple and clean. Look for solid colors and slim cuts to add to your winter wardrobe.

Cute to boot: A fashionable boots are the perfect complement to a holiday skirt. Look for sleek leather stiletto boots to wear with your short skirts or grab a pair of fur-lined boots for a warm, casual look. Pair slim boots with fuller skirts to avoid looking too bulky when you head out this holiday season.

Buy Skirts
Back to Guides Directory