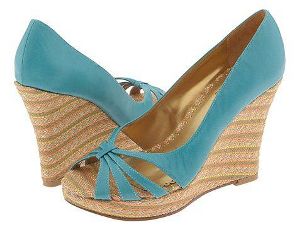 If you want to show off your cute pedicure but want something dressier than sandals, peep toe shoes might be what you're looking for. Designed with a small opening for a few of your toes to peek out, peep toe sandals are a stylish alternative to flip flops and regular pumps and heels. These sandals are simple to wear and can dress up almost any look. Follow these tips to get the most wear out of your peep toe shoes.
Wearing Peep Toe Shoes:

Wear peep toes with a flirty dress. Since peep toe sandals are an updated '50s style, they look great with fitted sheath dresses or dresses with full skirts. Wear white peep toe shoes with a black or white sundress for a classic, vintage look and try brown peep toe shoes with a yellow or red dress for a casual style. Women's peep toe shoes look best with dresses that fall just above or below the knee, but they also look good with shorter dresses. Look for shorter heels if you plan to wear the shoes with a short dress, however.

Dress up your office attire. Black peep toe shoes are a fun addition to a black pencil skirt or business suit. Look for leather peep toe shoes for a more formal and durable style for work. It is probably best to avoid wearing white peep toe shoes to an office and stick instead to more neutral styles, such as brown peep toe shoes.

Warm them up with tights. You may think you can only wear sandals during the spring and summer, but silver peep toe shoes are a cool shade perfect for autumn and winter weather. To keep your feet and legs warm, wear thick, charcoal-colored tights or warm textured tights in the same color as your shoes. Wear opaque black tights with black peep toe shoes or, if you're very bold, try a deep purple or blue shade with a simple skirt or dress. Avoid wearing sheer tights with peep toes because they will expose your toes.

Pair peep toes with jeans. Leather peep toe shoes look nice with fitted jeans, especially if you roll them up a bit to show off your cute shoes. Silver peep toe shoes paired with skinny jeans is a great evening look when you add a silk top and metallic accessories. You can also wear wide-leg jeans or trousers with peep toe shoes to make your legs look longer. Experiment with different colors and styles to find the look that's right for you.

Buy Peep Toe Sandals
Back to Guides Directory