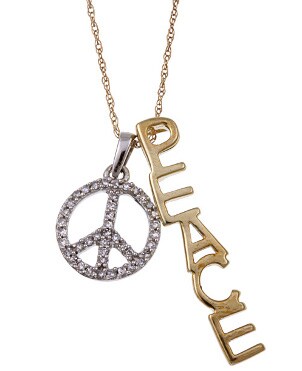 When you're looking to accessorize a pair of jeans or a nice dress in a youthful way, consider peace sign pendants. Peace signs have been popular for decades, but they are just as trendy today as they have ever been. A pretty peace sign pendant can brighten your favorite casual outfit or bring sparkle to a nice cocktail dress. You have many style choices when shopping for pendants, including a variety of metals, diamond styles and colors. Use these tips to wear peace sign pendants and jewelry stylishly.
Wearing Peace Sign Pendants:

Metal: You can find a variety of peace sign pendants in gold, sterling silver, platinum and stainless steel. Metal peace sign necklaces are very versatile. Wear platinum peace sign jewelry with nice dresses and suits. Platinum peace sign necklaces are very sleek, making them ideal for fancy outfits. Sterling silver peace necklaces look great with casual ensembles. Sterling silver is affordable and durable, making it a good choice for daily wear. Accessorizing with yellow gold necklaces takes slightly more thought than wearing silver-tone peace signs. To keep your look uniform, wear yellow gold peace sign jewelry with gold stackable bracelets and neutral colors, such as black, white and beige.

Cutout: Cutout peace sign pendants made of metal or wood are very hip with a decidedly casual vibe. Cutout peace sign pendants may be shaped like dog tags or squares with filigree or laser cutouts. Wear cutout peace necklaces when you want to add a bit of femininity to jeans and casual trousers.

Plastic: Plastic necklaces are popular for their ability to add color to an outfit and keep your look light and fun. Plastic peace sign pendants in bright rainbow hues are perfect for accessorizing a casual outfit, but they can look great with more formal ensembles, too. The trick is to choose the right color. Navy blue, dark purple and bright pink peace pendants all look great with black, white and grey dresses.

Diamond: Diamond peace sign pendants fashionably bring whimsy to the fine jewelry category. Diamond peace sign necklaces can be worn with everything in your closet. Choose a diamond pendant when you're getting dressed for a cool concert or when you're putting together an outfit for your first day of college. You can pair diamond peace pendants with other diamond jewelry or keep it casual by wear diamond peace signs with leather, fabric and plastic jewelry.

Buy Pendants
Back to Guides Directory