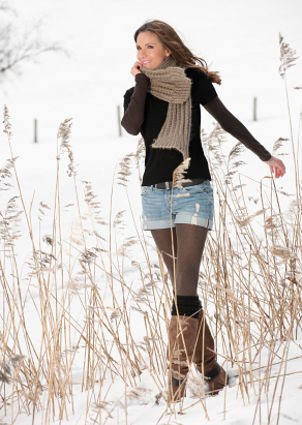 Once worn primarily by dancers and athletes to warm up, leggings have now become fashionable, versatile women's clothing. With many colors, patterns and styles available, leggings and other casual pants can add texture and dimension to any outfit. Read on for tips on creating flattering looks with leggings.
Wearing Leggings:

Dress up your favorite leggings. To achieve a fun, contrasting look, layer black leggings beneath a white or cream-colored dress. Add wedges or black flats and pretty vintage jewelry to complete the look. Black leggings also look great under sweater dresses, especially tucked into knee-high or ankle boots.

Don't sweat it. A long, loose tunic or sweater looks chic when you wear it with stirrup leggings or denim leggings. Dark denim leggings and stirrup leggings in black, navy blue or charcoal are the most slimming and go with almost any color of blouse, but you can also wear heather grey leggings or tights in vivid hues for a unique look. Add a skinny belt or wide corset belt to define your waist.

Try this for the "vest" outfit. A neutral-colored tee and a long dressy vest add a classic, elegant touch to ordinary women's leggings. Find a pair of tall leather riding boots to keep warm or wear simple flats in a neutral color or a bright hue to add a pop of color. Chandelier earrings and bangles will make the look more feminine, as will pretty women's clothing, such as frilly blouses, beneath the vest.

Blaze trails. Layer a blazer over a long button-up shirt and women's leggings for a comfortable weekend look. Look for cozy scarves in vibrant colors to dress the outfit up a bit for a day on the town and make sure to wear stretch leggings if you'll be walking all day.

Don't skirt the issue. Whether it's denim, twill, cotton or silk, a skirt looks great paired with stretch leggings or cotton leggings. Add a pretty blouse and wedge heels to a full black skirt or add a vintage T-shirt to a denim skirt and cotton leggings for an eclectic vibe.

Buy Women's Casual Pants
Back to Guides Directory