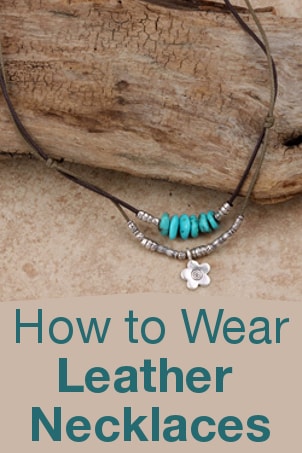 SHOP LEATHER NECKLACES NOW >>
Depending on how you style it, leather jewelry can look edgy or earthy and bohemian. It's important to maintain your personal style when trying new accessories, and you can easily make leather necklaces your own with the help of these tips.
Wearing Leather Necklaces:

Pair leather with gold: Leather looks fabulous next to glittery yellow gold. Layering leather necklaces with yellow gold chains creates a distinctive look with a worldly vibe. Add a rose gold chain to the mix for a bit more color. Try layering long gold necklaces with short leather cords to showcase each piece individually. Top off the look with a set of stackable gold rings and your favorite T-shirt for a cool weekend look.

Wear it with other natural textures: If you want to make leather necklaces part of a boho-chic look, try layering them with other natural materials. Tahitian pearls have rich colors and textures that will take your earthy style to a new level. Wood bead necklaces and bracelets add more earthiness, and a few crystal pendants or feathers will complete the look.

Personalize with pendants and charms: Pendants and charms look fabulous on leather cord necklaces. You can start with a leather cord necklace with one pendant and add charms to it. Show off your gold and silver pendants on leather cord necklaces. Layer several charms on one leather cord to create a look that is both trendy and unique.

Add beading: Add your own beads to a leather necklace to create a one-of-a-kind piece. Many leather necklaces can easily be decorated with oversized beads. Mix and match beads with pendants to add your own creativity to a variety of leather cords. Beads give you the opportunity to personalize your look with color, sparkle, and design.

Make your own: Making your own leather necklaces isn't difficult. You simply need a spool of leather cord and a plan. Braiding leather necklaces is easy, and braided necklaces offer a fun texture that goes well with modern attire. Be sure to purchase some jewelry findings, such as clasps and hooks, so you can make short necklaces. Make a trendy leather necklace by combining leather with metal rings or by braiding a gold chain right into the necklace alongside two leather pieces.

Shop Main Street Cord Necklaces
Shop Worldstock Leather Necklaces
Shop All Necklaces
See All Guides
Read More Jewelry Guides
Learn More about Necklaces
Published September 20, 2011
Updated January 20, 2015