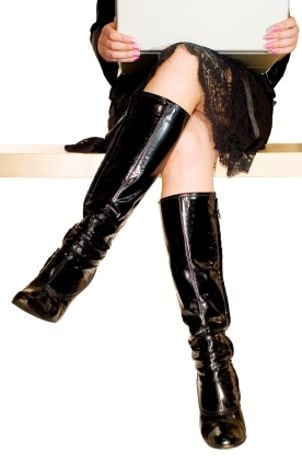 When paired with the right outfit, knee-high boots are perfectly acceptable to wear to the office. Plan for a subdued color scheme and stick to solid colors and earth-tone ensembles when wearing knee-high boots at work. Embellish your boots and cute outfit with eye-catching jewelry and hair accessories for the perfect office look.
Buying Knee-High Boots:

Choose a subdued color and style: Opt for basic black knee-high boots or chocolate brown knee-high boots. Leave patterned or brightly colored women's knee-high boots in the closet for a night out with the girls or a holiday gathering. Stick to classic (not patent) leather or suede knee-high boots without embellishments. Think simple and chic when purchasing leather knee-high boots for work.

Pick a heel or flat: Depending on the office environment, choosing boots without heels may be most appropriate. If you plan to go with knee-high heel boots, pick a shorter rather than taller heel to dress down women's knee-high boots. Flat knee-high boots are subdued and comfortable enough for most workplaces. But, then again, if you work in the fashion or entertainment industry, it is probably appropriate to wear the latest trends, including brown knee-high boots with stiletto heels. Just make sure you can still perform your job duties, including climbing stairs and riding escalators, in knee-high heel boots.

Pair the boots with leggings, sweater dresses and skirts: Wear dark leggings with black knee-high boots to create a seamless look. Add a dark grey or black skirt or a sweater dress that falls just above the top of the boots, especially flat knee-high boots, for a cozy outfit. Before leaving the house for work, test your mobility. Sit, stand and bend over, making sure the outfit isn't too revealing.

Go for skinny jeans on casual Friday: If your office observes the casual tradition, opt for a pair of dressy skinny jeans to wear with suede knee-high boots. Pair the outfit with a blouse that has character. A colorful, ruffled or layered top will balance the austere look of your jeans and suede or leather knee-high boots.
Tip:

When in doubt, grab your employee handbook to check for dress code guidelines. While there may not be information about women's boots, a recommended skirt and dress length may be in the rules. This may often give you clues as to suggested women's boots.

Buy Women's Knee-high Boots
Back to Guides Directory