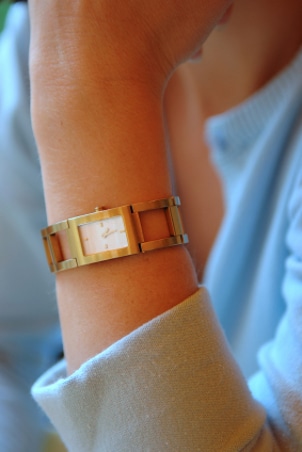 For making an impact, nothing is more classic than a gold watch. Bold and traditional, gold watches have the ability to effortlessly dress up an outfit with their brilliant shine. When accessorizing with a gold watch, it's important to keep it simple and let your timepiece be the focal point of your look. Different looks call for different gold watch styles that suit both men and women. For ideas on how to wear gold watch, keep reading.
Wearing a Gold Watch:

At the office: To look understated and professional at the office, women can pair rose gold and white ceramic designer watches with crisp basics like a pencil skirt and a silk blouse. Wearing a designer watch is always a good call, and several watch brands are currently embracing the sleek pairing of gold and ceramic. Men looking to make an impression should keep it conservative with minimalistic two-tone gold and stainless steel luxury watches that are dressy without being too flashy.

For formal events: This is your time to shine, so go bold and wear a solid 14k gold watch with formal attire. Men should look for an oversized yellow gold style with a black dial that will create a confident look when paired with a tailored suit or tuxedo. Women can replace standard gold bracelets with a women's gold watch that has delicate links and a feminine oval dial for the same fashionable look with a unique twist. Go big with gold watches for women and men that are accented with diamonds when you really want to make a statement.

During weekends: Keep it understated during days off and pair a leather and white gold watch with jeans and a polo shirt. White gold watches have the same durability and style as yellow gold, but they are easier to wear with casual clothing. Paired with rich leather straps, a white gold watch is a functional basic that doubles as a fashion statement. Another perfect option for women is a white gold bracelet watch. Casual and stylish, these watches combine artfully crafted faces with beaded bands that dress up your weekend attire.

Buy Gold Watches
Back to Guides Directory