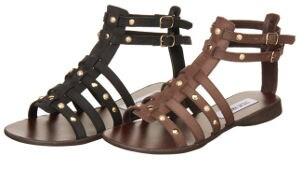 Besides their impressive architectural and leadership styles, the ancient Romans got something else right -- gladiator sandals. Traditionally known for their flat soles and thin straps that wrap around the foot and often the leg, gladiator sandals are comfortable and now come in many different styles and materials. Find out more about these stylish shoes and how to find the perfect ones for your wardrobe.
Wearing Gladiator Sandals:

Select the most flattering style. Gladiator sandals can make your feet look wide and your legs look short if they have too many straps, so consider your leg and foot shape when purchasing a pair. Flat gladiators that stop just before the ankle or wrap around just above it look good on most women. Heeled gladiator sandals are also slimming on women with thicker calves and ankles because they draw the eye upward instead of to the straps around the foot.

Pick a material that complements your wardrobe. You'll find sandals in many materials, but leather seems to go well with this style. Most gladiator sandals are fashioned from leather, but you can also find gladiators in suede and vinyl with metal hardware and bronze and silver embellishments. They also come in vibrant colors and natural fibers. If your wardrobe contains mostly casual, light clothing, traditional leather gladiators are probably best for you. If you like to dress up or want to add glamour to a party dress or fancy jeans, look for heeled gladiator sandals or flats with gold or silver fabric or grommets and studs. Colorful sandals can dress up a sundress or jeans.

Wear your gladiators with jeans. The simplest way to wear gladiator sandals is to pair them with your favorite pair of jeans because you hide your ankle and calf but show off your pretty pedicure and fun, strappy sandal. To expose the most of your gladiators, wear skinny jeans that cuff right at the ankle or roll up your jeans for a laid-back vibe. For a dressy look, wear a frilly blouse and cardigan. Choose a T-shirt and vest for a simpler outfit.

Spruce up a skirt. A ruffled Bohemian skirt or loose A-line skirt looks fabulous with either flat or heeled gladiator sandals. To decide whether heels are best, look at the hem of the skirt. Longer skirts, those that reach to at least mid-calf, look better with flats, while knee-length and shorter skirts are best complemented by heels. You can also choose taller gladiator sandals that wrap around the ankle and the calf with skirts. Avoid these, however, if you have curvy calves because they will fit too tightly.

Keep it short and sweet. Gladiators are perfect for summer shorts-and-T-shirt days. Whether you're wearing long Bermudas, cropped pants or mid-thigh styles, gladiators add a bit more style and sophistication than flip flops and beach slides do.

Don them with a dress. If you really want to channel the Roman vibe, pair your gladiators with a long tunic dress or maxi-style halter dress. Gladiators also look good with colorful sundresses, shirtdresses and sheathes. To dress up your look, simply choose heeled gladiators in shiny materials, such as patent leather, and consider styles with buckles and hardware for an edgy look.

Buy Gladiator Sandals
Back to Guides Directory