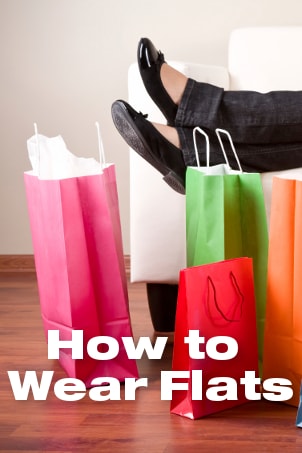 SHOP FLATS NOW >>
When you need easy-to-wear shoes but you want to still look dressed up, flats are the perfect option. Originally inspired by flat ballerina shoes, flats now come in athletic styles, leather, and evening designs, to name a few. Versatile and comfortable, flats add style to any outfit. Here are a few tips for wearing your flats with different outfits.
Best Ways to Wear Flats:

Cropped pants: One of the easiest ways to wear flats is with cropped pants. Pair black flats with cropped khakis and a crisp blouse for a classic, polished look; finish this look off with a red lip. Or you can let your flats and capri pants help you channel Audrey Hepburn in Funny Face by donning head-to-toe black. Cropped trousers are also perfect with a pair of flat loafers.

Dresses: Casual dresses that are either very long or very short work well with flats, and any dress works with flats that have a small heel, which elongates the legs. A jersey maxi dress with a pair of flat sandals is the perfect look for a summery day. Flats in a bright color or in a shiny material can make a simple dress feel more special.

Leggings and skinny jeans: The form-fitting style of skinny jeans and leggings works so well with a pair of flats. Try wearing your skinny jeans with pointy flats to dress them up a bit. Flat ankle boots, oxfords, or loafers with a one-inch heel work with skinny jeans, too. Wear leggings and flats with a tunic top or layer a knit dress over your leggings. To achieve a slimming look, wear black leggings with matching black flats. You can also wear colorful flats for a fun look.

Skirts: Flats pair well with mini-skirts if they have just a bit of a lift to them; look for wedge flats that only have about a one-inch heel to make this look work. Mid-calf skirts also can work with flats, especially if they have a more substantial design. If you're tall, try wearing flats with a long, Bohemian-style skirt for a casual look.

Shop Flats
Shop Loafers
Shop All Women's Shoes
See All Guides
Read More Clothing & Shoe Guides
Learn More about Shoes