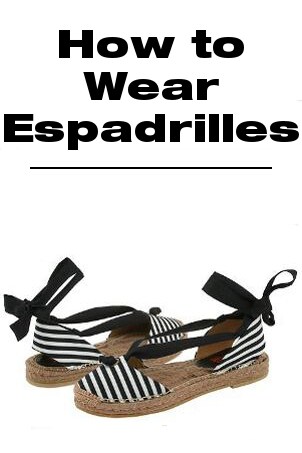 When you're shopping for shoes to wear in the summertime, be sure to check out the selection of espadrilles. With their canvas or cotton uppers and their braided, grassy soles, espadrilles have an earthy look that can be dressed up or dressed down. And since the soles are often made of jute, these shoes can even be an eco-friendly footwear choice. If you're thinking about summer shoes, be sure to read these tips on wearing espadrilles.
Wearing Espadrilles:

Consider the height: The height of your espadrilles will affect how casual they look. Flat soles are the perfect alternative to flip-flops in the summer. Wear them with shorts, ankle length pants, or capri pants. You can even wear them with your swimwear to the beach or pool. Wedge heels, on the other hand, give espadrilles a dressier look. Wear them with a sundress to brunch or for summer evening cocktails on the patio.

Get into color: Because the uppers are usually made of cotton, the color choices for espadrilles are nearly endless. A black pair would be the most versatile, but you don't have to be so formal when the weather is warmer. Why not choose a red, orange, or yellow pair of espadrilles? You'll even see them in bold prints, including stripes, leopard spots, or floral patterns.

Pick straps or no straps: Both flat and wedge espadrilles may come with or without ankle straps. Without the straps, the look is more casual, perfect for pairing with shorts on a Saturday afternoon. The ankle straps dress up the look quite a bit. The style has been around for centuries, but it was popularized in America in the 1940s, so try wearing this when you're going for a vintage look. Sometimes the straps are a simple bow around the ankle, and sometimes the straps wrap around the leg like a ballerina's shoe.

Choose open toe or closed: Flat and wedge espadrilles are both available with closed toes, and it's a very versatile style. Open-toe espadrille sandals can look dressy or casual, depending on how open they are. A peep-toe works well with a dressed-up look while a full open-toe sandal will feel breezy and relaxed.

Look for extra details: Espadrilles have lots of style, but a few more embellishments can really make the look perfect. A leather ankle strap, a bow on the vamp, a few rhinestones at the ankle, or a shiny buckle would add a bit more fun to a pair of espadrilles.
What Do You Want to Do Next?

Shop Women's Sandals
Shop Wedges
Shop All Women's Shoes
See All Guides
Read More Clothing & Shoe Guides
Learn More about Shoes