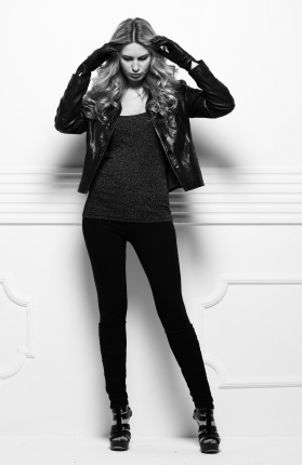 Designer clothes are well-made and in the forefront of the trend scene. Wearing designer clothes every day, however, can be difficult. They're typically more expensive and stand out more than other clothing, making it hard to wear them everywhere you go. Here are a few tips to help you incorporate designer styles into your daily wardrobe.
How to Wear Designer Looks:

One piece at a time: The key to wearing designer clothes with a bold, noticeable design is to only wear one piece at a time. This will keep your look from becoming over-the-top and keeps your outfit focused on the designer piece. Try a pair of designer jeans with a simple T-shirt and a cardigan or highlight a designer dress with nude pumps and a simple handbag.

Choose designer basics: Not all designer clothes are flashy, and finding the right basics from your favorite designer is an easy way to wear designer daily. Look for jeans without a lot of detailing, tees in solid colors, sweaters and a classic linen button-down shirt; then build the rest of your wardrobe to complement them.

Stick to a designer: Each designer has his or her own distinct look, and that designer's pieces are styled to coordinate seamlessly within that look. Mixing pieces from different designers can work sometimes, but you run the risk of clashing or looking overdone with too many designer styles. By choosing pieces from the same designer for your look, you can keep your outfit carefully coordinated.

Designer accessories: Accessorizing is an easy way to wear designer wares. Designer handbags help you look fashionable and carry your necessities throughout the day. Eyewear, whether you're wearing sunglasses or optical glasses, offers another way to show off your designer style from day to day. A designer scarf or umbrella keeps you looking chic in damp weather.

Think outerwear: A designer jacket goes a long way toward pulling your look together. A fitted trench is perfect for everything from heading to work to going out for drinks on the weekend. During the colder months, designer coats can help you look sleek and put together even in the snow and rain.

Buy Designer Clothes
Back to Guides Directory