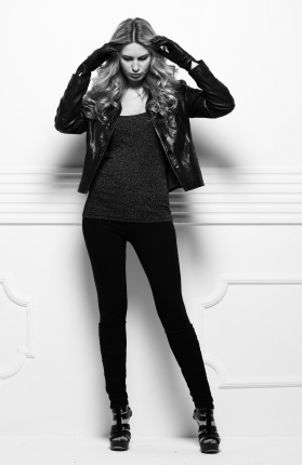 If you want to add a classic touch or a bold accent to your wardrobe, designer clothing will allow you to look sophisticated and make a statement wherever you go. Women's designer clothing doesn't have to look flashy, however, and neither does men's designer clothing. Follow these tips to find the best pieces in a designer store to spice up your wardrobe and flatter your body type.
Wearing Designer Clothing:

Buy a statement piece: An attention-grabbing designer statement piece will dress up any outfit. Designer coats, especially those made of leather, suede or other luxurious fabrics, will help you stand out in a crowd. Spruce up your boring jeans-and-a-T-shirt outfits with designer coats and similar women's designer clothing in bright colors or stylish cuts. To show off a new pedicure or simply add more style to jeans or a dress, buy designer shoes with unexpected details, such as zippers, colorful fabrics, trademark logos and elaborate stitching. Designer shoes, especially heels or boots, can change up even the most subtle, understated outfit.

Back to basics: The basics in your closet can go a long way. After all, you wear them every day. Designer shirts and designer jeans are perfect for adding a bit of extra style to your wardrobe. Look for designer clothes with logos to show off your favorite brands or buy simple designer shirts and blouses with classic lines and cuts, such as V-necks, button-ups and crewnecks. Choose designer jeans that slim and shape your legs, and look for cuts with embellishment on the back pockets or unique washes that emphasize your figure. Jeans are a basic of both women's and men's designer clothing.

Mix and match: Purchase several designer pieces to play off each other. Make the most of your designer clothes by purchasing products from several of your favorite designers to wear together. Buy a designer dress to wear with brand-name jewelry and scarves or visit an online retailer's designer store to pick other accessories that will complement a designer dress. Designer clothes look great with similar stand-out pieces for formal events or dressy occasions. Mix and match your designer favorites to create your own signature look.

Buy Designer Accessories
Back to Guides Directory