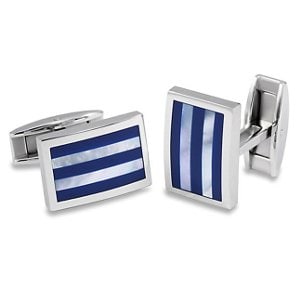 As men's accessories, cuff links are both fashionable and functional. These pieces of men's jewelry take the place of buttons on French-cuff shirts to fasten the cuffs and add decoration. If you are new to the world of men's fashion and men's jewelry, you might not know how to purchase and wear cuff links. Cuff links should add to your ensemble, but not detract from the other aspects of your look. Use these tips to buy and wear men's jewelry with style.
Wearing Cuff Links:

Choosing French-cuff shirts: Cufflinks are worn only on French-cuff shirts. To start building a fashionable wardrobe, start with stylish French-cuff shirts. When shopping for these shirts, select colors that will match your current wardrobe. White and blue are neutral, but black creates an edgier look. Brightly colored French-cuff shirts can be perfect for men who like to get noticed. Once you have selected the French-cuff shirts that match your wardrobe, you can buy cufflinks and other jewelry to complete the ensemble.

Selecting cuff links: Once you have a stylish collection of French-cuff shirts, you are ready to buy cuff links to match. Start with basic cuff links, like those made of silver and decorated with black or blue stones. These neutral cuff links will match almost everything in your closet. You may want to add novelty cuff links to the mix. Cuff links shaped like dice, skulls and martini glasses and those made of working miniature clocks and compasses may suit your style preferences.

Pairing cuff links: So you have collected a variety of French-cuff shirts and procured several pairs of cufflinks that showcase your interests and personality. How do you know which cufflinks will go best with which shirts? Start by matching colors. Silver, blue, grey and black cufflinks go well with almost any color, but yellow gold cufflinks go best with blue, green, yellow and black shirts and suits. Red cufflinks look fashionable with beige suits and shirts. Pink cufflinks look great with black, red, grey and green shirts. When in doubt, take a moment to hold your cufflinks up to the shirts in your closet to see which color combinations look good to you.

Special occasion cuff links: Some cuff links are ideal for daily wear, but many occasions require dressy men's jewelry. Diamond cuff links are perfect for weddings and black-tie affairs. Solid gold cuff links are valuable, making them a great gift choice. Choose gemstone cuff links in many colors to make sure you always have something interesting to wear to formal events.

Buy Cuff Links
Back to Guides Directory