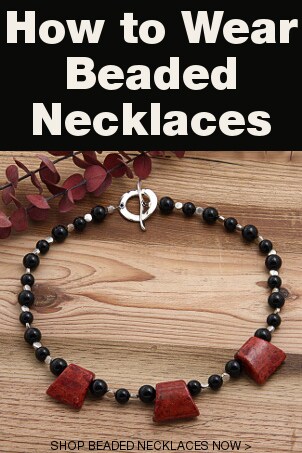 Beaded necklaces are one of the hottest trends in jewelry right now, but if you haven't worn them much, you might not be sure how to add them to your outfits. Beaded necklaces add just the right touch of color to outfits, and they can brighten up your face. Follow these simple tips to wear them stylishly.
Wearing Beaded Necklaces:

The long and the short: Bead necklaces are available in a wide range of lengths, so you can inject variety into your jewelry collection. Long bead necklaces may reach the button on your low-rise jeans; these dramatic necklaces make it easy to embrace the Bohemian trend. Wear long beaded necklaces with everything from sheath dresses to trouser jeans or skinny cargos. Short beaded necklaces have the look of classic pearls, but they're available in wider variety of vibrant colors. Wear short beaded necklaces with suits, buttoned blouses, and cocktail dresses.

In color: One of the best aspects of bead jewelry is the amazing range of colors. Beads made of plastic, glass, wood, and crystal can be found in all your favorite hues. Gemstone bead necklaces incorporate authentic gems in a rainbow of colors. Wear bright blue, pink, and yellow beaded necklaces in the spring, or brighten a winter day with emerald and sapphire bead jewelry. Shiny metal beads make for contemporary beaded necklaces. Wear metal beaded jewelry with skinny jeans and silk shirts.

Size matters: Bead size is an important consideration when shopping for beaded necklaces. Large beads make for a dramatic piece of jewelry, while small beads are very delicate and feminine. Large beads are often separated by smaller beads on necklaces to minimize the impact of big gems or stones. Keep other jewelry to a minimum when wearing beaded necklaces with large beads in order to avoid looking weighed down. Beaded necklaces with petite beads, on the other hand, can be layered with other jewelry to create texture.

The shape of things: You may think of beads as always being round, but many beaded necklaces incorporate square beads and gemstone chips. These textured necklaces look artistic and creative. Try wearing a beaded statement necklace with a T-shirt to dress up your weekend look, or pair one with a little black dress and let the beads be the star of the outfit.
What Do You Want to Do Next?

Shop Handmade Beaded Necklaces
Shop Fashion Necklaces
Shop All Beaded Necklaces
See All Guides
Read More Jewelry Guides
Learn More about Necklaces