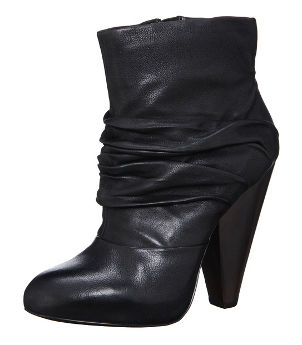 One of the most popular and easy-to-wear women's boots is the ankle boot, which hits right at the ankle and can be worn with many different outfits. If you make smart wardrobe decisions, ankle boots can visually lengthen your legs and add a chic edge to an otherwise ordinary outfit. Pay attention to the silhouette when you wear women's boots and thoughtfully select slimming pieces to create a streamlined outfit.
Wearing Ankle Boots:

Wear a dress. Put on a dress with a flattering silhouette. Depending on your build and style preference, you can choose a loose, flowing dress or a more fitted dress. To create an hourglass figure while wearing flowing fabrics, wear a stylish belt at your waistline or just above it.

Pull on tights. Tights that are in the same color palette as your ankle boots will make your legs look longer. Some women, however, choose this opportunity to play with bold colors. This splash of color works well if you're wearing a black dress. Try purple, electric blue or pink tights for an '80s vibe. If you'd rather wear a more subdued outfit, look for thick patterned or cable-knit tights in a complementary color. You can also wear leggings beneath your dress and tuck them into ankle boots.

Slip on complementary ankle boots. These will make your legs look long and lean. Select a pair of women's ankle boots with a shape that matches the feel of your dress. For example, a boot with a flower silhouette works beautifully with a floral print dress. A sleek, black leather boot looks stunning with a little black dress, while slouchy grey boots complement almost any color of dress and look especially good with sweater dresses.

Wear skinny jeans. Pull on skinny jeans the same color as your ankle boots. Because the style hugs your legs and ankles, it works well with women's ankle boots to create a leggy silhouette.

Put on a fitted shirt. This will continue the streamlined look of the outfit. If you dislike fitted shirts, you can substitute it with a long blouse. Tie a skinny belt just above your natural waist to lend the shirt some shape. Use this opportunity to add color to your outfit by wearing bold shades and funky jewelry.

Add a fitted blazer to give a polished touch to your outfit. Make sure the blazer fits well; it should be snug around your shoulders and fit just right around your waist.

Wear ankle socks with your boots if your feet will get cold. Since you're not wearing tights, find socks that won't peek from your boots. Tuck the legs of your skinny jeans into the boots.

Buy Ankle Boots
Back to Guides Directory