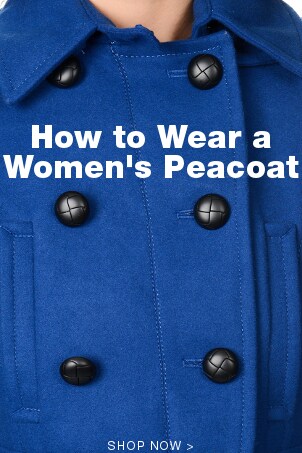 An outerwear staple, the peacoat is always a classic look to sport on a chilly day. Whether you're walking your kids to school or ice skating in the park, a women's pea coat is a fantastic choice for keeping you warm and stylish. When you're shopping for coats to wear for the fall and winter, consider adding a peacoat to your outerwear wardrobe, then be sure to follow these tips on wearing it.
Wearing a Peacoat:

Keep it classic: Peacoats were designed to resemble the short wool coats worn by sailors in U.S. Navy, and the style has undergone very few changes over the years. The pea coat is considered a classic in the world of outerwear, so keeping your wardrobe simple and classic when you wear a peacoat will really let your coat shine. Wear your peacoat with tailored dress pants or jeans and a traditional wool sweater for simply classic appeal.

The long and short of it: A well-fitting peacoat should hit you just below the hip. This means that the women's clothing you wear with your coat should complement that length. When you're wearing a women's peacoat, avoid long tunic shirts and opt instead for a sweater that hits at mid-hip. Similarly, dresses and skirts should fall several inches longer than your coat. Knee-length dresses and skirts look best with a pea coat.

A flattering fit: Just as your peacoat should be the right length, it should fit you properly everywhere else. Choose a women's peacoat that fits you well through the shoulders and bust and wear your pea coat buttoned for the best fit. These double-breasted wool coats are designed to be worn buttoned and create a flattering shape when they are. If you're looking for a bit more definition, choose a women's pea coat with a tailored waist.

Choose your color: A black wool coat is versatile and reliably stylish, but peacoats are available in other colors, too. If you're going for an authentic nautical look, choose one in navy blue. A camel peacoat has a chic, Parisian look to it. If you prefer to stray from tradition a bit, look for a bright color, like red, electric blue, or even pink.

Accessorize with style: Keep your accessories simple when you are wearing a women's peacoat. Try a brightly colored scarf and pair of mittens with your outerwear for a stand-out look. Add a simple satchel handbag to carry your belongings. The key to accessorizing women's outerwear is to accessorize your coat and not the outfit you have underneath. Scarves, hats, gloves, and mittens should all be tailored to complement your peacoat for the best look.

Shop Women's Peacoats
Shop Women's Wool Coats
Shop All Women's Outerwear
See All Guides
Read More Clothing & Shoe Guides
Learn More about Outerwear
Published July 13, 2011
Updated November 28, 2014