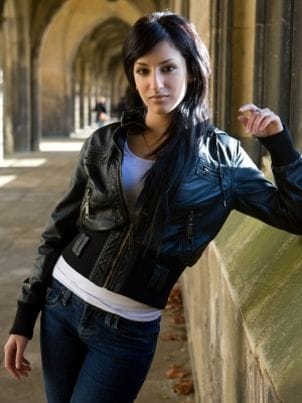 Do you look in the closet and yawn before pulling out yet another boring outfit? Spice up your wardrobe with a leather jacket. Find flattering jackets and blazers made of supple leather to dress up jeans and T-shirts, dresses and work attire. Read on for tips on creating stylish outfits with your leather jacket and creating a look all your own.
Wearing a Leather Jacket:

Add glam to a skirt and blouse: A women's leather jacket looks great over a form-fitting pencil skirt, ruffled blouse and heels. For the ultimate chic look, buy a cropped women's leather motorcycle jacket that hits the waistband of your skirt. A women's leather bomber jacket complements denim well, especially a knee-length skirt. Add a vintage band T-shirt and 80s sneakers for a playful look that's perfect for hitting a concert with friends. A black leather women's jacket can also add polish to a classic white skirt and heels.

Jumpstart your jeans ensemble: Wear a women's black leather jacket with grey or light blue skinny jeans, a plain white T-shirt and either flats or heels for a classic look you can wear anywhere. Pearl earrings and a few bangles will add feminine touches to a women's leather motorcycle jacket. Add knee-high boots and a tunic to set off a women's leather bomber jacket in black, brown or burgundy.

Toughen up a girly dress: Pair a floral dress or simple sheath with a women's black leather jacket and cute heels. Wear pretty accessories in your hair and add a flirty necklace to contrast with the sleek cut of the jacket. A full '50s-style ball gown or party dress also looks great under a women's leather jacket. Add a belt around your waist for a unique look that defines your figure.

Polish up your work clothes: Leather jackets and blazers look great over dress pants and button-ups, and they will also keep you warm during your morning commute. Wear leather women's jackets over cardigans, silk blouses and business skirts for an edgy look and buy a black leather women's jacket to layer over a dress shirt and vest to keep your outfit professional. Leather women's jackets are thin enough to look sleek over dresses as well.

Buy Jackets and Blazers
Back to Guides Directory