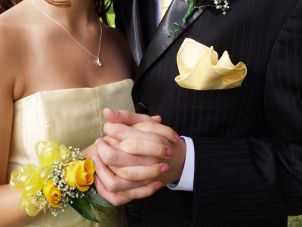 The perfect strapless dress can make you look simply stunning for a formal party or dinner. It showcases your neck, collarbone, shoulders and upper torso in a classic, feminine way. To find the right evening or formal dress for you, focus on a few key points to make sure you find a strapless dress that flatters your body and fits perfectly.
Instructions:

Analyze dress styles and find one in an hourglass shape. The right cut and fit of a strapless dress will make you look spectacular, so avoid anything that looks too baggy or square. A short strapless dress that hits above the knee is flattering on petite women, but long strapless dresses are flattering on many women and can make you look glamorous and tall.

Select a dress that fits your bust line well. The top of the strapless evening dress should be tight and form-fitting but not so snug that you feel like you are bursting out. The waist should be trim, but the bottom should be a bit looser to balance a tighter top. If you have a large chest, choose a dress with stretchy, durable fabric and consider a strapless dress with a ruffle or other coverage on the neckline so you don't reveal too much.

Wear properly fitting underwear, especially a strapless bra. A convertible bra will work well under a strapless evening dress as well and will give you adequate support. Since strapless formal dresses are usually fitted from the bust to the waist, consider wearing a body skimmer or other type of shapewear to slim your body and make wearing a strapless dress easier.

Use accessories simply and sparingly. A strapless evening dress is meant to show off your shoulders and neck, so choose jewelry that will not take attention away from the dress. Pick a pair of fancy chandelier earrings and a diamond-studded cuff, or accentuate your neck with a beautiful pearl necklace or fancy choker. Remember, wearing too many pieces at once can be distracting. You can, however, wear fancy heels with a short strapless dress for a glamorous look, and a long strapless dress benefits from gladiator sandals or lower heels.
Tips:

To further make sure your bra stays in place and that you avoid any uncomfortable moments, consider pinning the bra to the dress to fasten it a bit more.

View All Evening and Formal Dresses
Back to Guides Directory