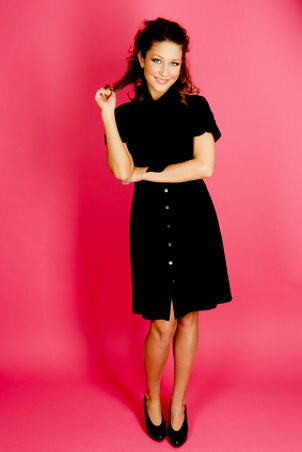 Shirt dresses are versatile, comfortable and universally flattering. They easily go from casual to office- or date-ready with the addition of some simple accessories and a change of shoes. You'll be able to wear these dresses often, thanks to this versatility. They are not only a fashionable choice; they're also economical.
Wearing Shirtdresses:

Accentuate your curves. Belts add shape and color to a shirtdress. Cotton shirtdresses look great with a variety of belts, from skinny to wide. Some shirtdresses even come with their own belt. If the product description reads "self-belted," then the belt will be made out of the same material as the dress. This belt can help you look taller because it doesn't break up the line of your body.

Layer it. Wear a camisole underneath the dress and unbutton the top of the dress enough to let it show. Choose something in a contrasting hue for a pop of color, or choose one in the same color as the dress for a sleek effect.

Add some shine. Simple jewelry adds the perfect touch to a shirtdress. Polished pieces add just the right amount of interest without appearing overdone. Bangles or cuffs and long necklaces are the ultimate shirtdress accessories, especially for denim shirtdresses. Chandelier earrings can also add a nice touch.

Match shoes. Which shoes to wear depends on the occasion. For a casual look, wear ballet flats or open-toed sandals or heels. For more formal events, pair the shirtdress with heels, ankle boots or dressy flats. Knee-high boots are best for cooler weather and look best if the dress comes to the knee or past it.

Be creative. Use a shirtdress to stand out. Wear a bright scarf around your neck. Pair a belted shirtdress with some tights and high boots. Try ankle-length leggings with ballet flats. Wear some skinny jeans underneath the shirtdress for a funky look.

Cover up. Think of your shirtdress as a regular dress shirt. You can dress it up, especially in cooler weather, with a fitted blazer or a vest. Casual dresses can be paired with simple cardigan when you need an extra layer.

Buy Dresses
Back to Guides Directory