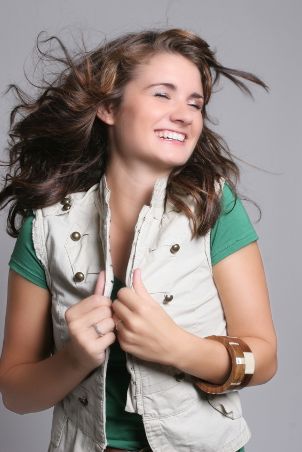 Uncle Sam might not need you this year, but you just might need a military-inspired jacket to complete your ensemble. With their gold and bronze piping and accents, numerous buttons and tailored fit, military jackets are flattering on almost everyone and easy to wear. The following tips will help you wear a military-inspired women's fashion jacket that'll add flair to any pair of pants, skirt or dress.
Wearing a Military Inspired Jacket:

Dress up a little black dress. Versatile by nature, a little black dress gets even more dressed up with a black cropped military jacket. If your jacket has a lot of hardware, you may want to keep it the focal point of your outfit and wear minimal makeup and accessories. Add black tights and heels, ankle boots or knee-high boots and you're ready.

Pick from punk rock. Military clothing can make you look like a rock star if you wear it the right way. Pair a military jacket with dark skinny jeans or thick leggings and '80s-inspired flats or sneakers. Add bold metallic earrings in either gold or bronze to complete the look.

Wear the pants. A fitted military-inspired jacket looks good with both jeans and dress pants. For a unique look, wear wide-leg pants with your jacket and finish the look with heels or ankle boots. This outfit looks best with a cropped military jacket that doesn't add to the volume on your legs.

Show off the jacket. If your jacket extends to mid-thigh, consider wearing it alone with thick leggings underneath. Leather leggings are thicker and more like pants, and shiny leggings will make your legs look thinner. If you're not comfortable wearing the jacket as a dress, layer either a skirt or dressy shorts beneath it.

Slip a jacket over a skirt. A full, lacy skirt looks fantastic with a masculine, boxy military jacket. Add knee-high boots or strappy heels to make the look more feminine and wear vintage jewelry, such as pearls and brooches, for an elegant touch.

Look for feminine touches. Since military clothing is a menswear trend, look for unexpected details and colors that will make the pieces more girly. Some designers offer the jacket in royal purple shades; other jackets have ruffles and asymmetrical hems. This is a good option if you plan to wear military clothing with neutral colors on the bottom.

Buy Women's Jackets and Blazers
Back to Guides Directory