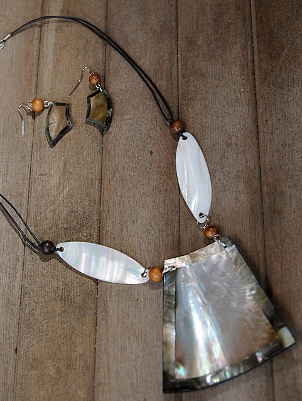 Bold and dramatic jewelry can define an outfit. A large gemstone pendant is unmistakably regal, while a big carved-wood necklace turns you into a nature goddess. If you've been shying away from large pendants for fear of being completely overwhelmed by gems, gold or beads, you've been missing out on one of the most exciting jewelry trends. Oversized pendant necklaces can easily match your current wardrobe when you choose them carefully and wear them thoughtfully. Embrace this jewelry movement with our tips.
Wearing Large Pendants:

Choose meaningful pendants: When selecting bold jewelry, it is best to avoid choosing necklaces based only on their popularity and trend factor. Jewelry is meant to project your personal image and large pendant necklaces will speak louder than petite pendants. If your favorite color is purple, choose a large amethyst pendant. If your birthstone is the pearl, select a cluster pendant with many lovely pearls in a variety of hues. If you love the ocean, buy charm pendants with several sea-inspired charms. A large pendant should show your personality to everyone you see.

Wear large pendants on a long chain: Small pendants look lovely on a short chain, but large pendants can overwhelm you when they sit close to your face. A large pendant swinging on a long chain is sexy and eye-catching. A thick chain or cord is often better than a thin chain or cord when wearing large pendants. Mix and match your pendants and chains to find the best combination.

Limit other accessories: A large pendant won't overpower your ensemble when you wear it alone. Layering small pendants and petite chains can create a great look, but a large pendant on a long chain can easily go solo. If you choose to wear other accessories, stick with just one piece. A matching bracelet will add to the look, while bold earrings and bulky rings can detract from the beautiful pendant.

Look for other creative options: You don't have to wear your large pendant on a chain; large pendants are easily changed into brooches and hair accessories. An oversized pendant can be attached to a simple headband or a pin. A pin or hair accessory can also be transformed into a pendant. Consider these options when you are looking for fun ways to wear heirloom jewelry and estate jewelry.

Buy Pendants
Back to Guides Directory