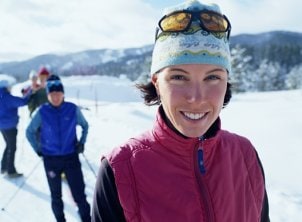 While many consider winter a time to stay indoors and "hibernate," there's no reason for a little cold and snow to stop you from exercising outside. Snowshoeing is an excellent snow sport and a great way to explore the beauty of snow-covered landscapes. While it'll take a little getting used to, once you get a little practice, walking in snowshoes will become second nature.
Instructions:

Tie your boots tight. You want to ensure that you have a tight-fitting pair of winter boots to efficiently grip your feet and transfer your energy onto the snowshoes. If your boots are loose, you'll have a clumsy snowshoe experience. Snowshoeing is a snow sport that requires patience and attention to detail.

Put the snowshoes on when you come to the trail or area where you intend to snowshoe. You should avoid snowshoeing on pavement or other non-snow surfaces as these will damage your snowshoes (and feel awkward and uncomfortable). Fully tighten each binding around your boots in back and on the toes.

Spread your feet slightly wider than you ordinarily would. Since snowshoes are significantly wider than your feet, a wider stance will keep you from stepping on and tripping over the snowshoes.

On flat terrain, simply step forward with your lead foot and walk as you normally would, albeit with a wider and slower stride. If the snow is particularly light and deep, shorten your stride a bit and make an effort to tread a little more lightly to avoid plummeting into the depths of the snow. On firmer snow, you shouldn't have a problem establishing a walking rhythm.

When climbing hills, use the toe crampon to dig into the hillside. Get a firm grip with one foot and then step forward with the other, again using the crampon to maintain traction. If you're climbing in powder, you can kick into the snow with the front of your snowshoe to better bite into the snow and create some uphill traction.

When descending, use the crampons to provide traction in the snow. Keep your knees bent and keep your weight slightly back while centering your feet over the middle of the snowshoes. Take small, low steps so as not to allow the snowshoe to swing out. Proceed carefully, letting the metal crampons dig into the snow and prevent you from slipping.
Tips:

Snowshoeing can be a tiring activity for newcomers. Plan a moderate hike on flat, established trails to start off with and build up your stamina before tackling anything long or strenuous.

Do not jump in hinged binding snowshoes; you'll swing the heel of the snowshoe out, planting it in the snow while your body goes flying forward.

Always be aware of avalanche dangers and carry the appropriate equipment.

Don't forget other outdoor essentials such as plenty of water, sunblock and proper attire.

Avoid snowshoeing alone, especially in distant, backcountry locations.

View All Snowshoes
Back to Guides Directory