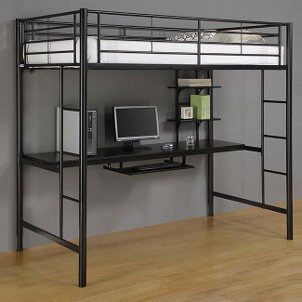 For many people, loft beds are closely linked to kids' rooms, and you may not consider a kids' bed to be a valid piece of furniture. However, loft beds have evolved in style and usage outside the kids' room scene. A loft bed is perfect for everyone, from singles that need to get creative with their small apartments or dorm rooms to large families that need to conserve bedroom space. Plus, making good use of space under a loft bed just makes your room look awesome. Whether you're an adult looking to spruce up your own bedroom space, or you're a parent working on your kids' rooms, it's always a great idea to use loft beds. With these fabulous loft beds, you get twice the room in half the space. Keep reading for ideas on how to use the space under a loft bed.
Using the Space under a Loft Bed:

Work space. Whether you're a college student writing papers long into the night or a professional working on a big project to impress your boss, all the space under a loft bed can benefit you. There's enough space under your loft bed to fit in a desk, computer and a chair. No more all-nighters at the office or lab. You're only a few rungs away from your bed at the end of your work day, however long that turns out to be. Remember to get a good lamp so you have the proper light to work by.

Playtime. For the kids (and the kids at heart) the extra space under the loft bed can turn into practically anything: a cave, a space station, an oasis or a castle, just to name a few. Kids really love this sort of thing since they're naturally creative and will be able to come up with a myriad of different scenarios. Add curtains for extra fun. The loft bed can become a special nook in your child's own room.

Entertainment central. If you are looking to add some fun time to your routine, then convert the empty space under your loft bed into your entertainment hub. Install bookshelves with plenty of books, lamps and a cozy chair and you're well on your way to having your own library. Another idea is to store all your movies and video games underneath your loft bed. Throw in a couple of bean bag chairs, a TV and some curtains and voila! You'll have your own private theater and gaming room.

Storage solution. Maybe you're trying to save a little money in the economy and have recently downsized. Sometimes all you want is just more room for your home. By investing in a loft bed, you automatically gain extra space without any major or costly renovations. If you're in the process of moving out (or moving in), then the space under your loft bed is the perfect place to store your boxes until you're ready to move or start unpacking. If you think it looks messy, you can always put curtains up around the perimeter to camouflage the boxes. A more permanent bedroom storage solution is to install cupboards or custom drawers under your loft bed.

Buy Kids' Beds
Back to Guides Directory