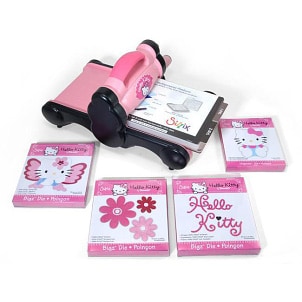 Things You Need:
Sizzlits
Die cutting machine
Paper, fabric or other material
Adhesive
If you have ever received a beautiful homemade invitation in the mail or admired a friend's perfectly crafted scrapbook, then you might be interested in trying Sizzlits. Sizzlits are thin templates or, cutting and embossing dies used in die cutting machines and they allow you to perfectly cut out words, pictures and borders from cardstock, fabric, leather and a wide variety of other materials. Using Sizzlits and your die cutting machine, you can create lovely and impressive cards, gift tags and scrapbooking embellishments.
Using Sizzlits:

Choosing your Sizzlits will depend on your craft project and personal style. Sizzlits come in a wide variety of styles and designs. They also come in coordinated sets or sold separately in singles. Whether you are making a birthday card, a party invitation or adding decor to a scrapbook page, there are plenty of Sizzlits to choose from, including alphabet letters and decorative strips. Sizzlit sets with beach themes are perfect for your summer vacation scrapbook page or annual family barbeque invitations, while Christmas Sizzlits will allow you to make your own holiday cards for friends and family.

Using Sizzlits is incredibly easy once the proper technique is learned. If you already have some die cutting experience, then using Sizzlits will be very simple. If you are new to die cutting, then there are a few things you need to keep in mind. Your die cutting machine should be compatible with all sizzlit templates and it should also include instructions on using them properly. Once you have selected the material that you wish to use, cut it to the proper size to fit into your die cutting machine, while making sure that the sizzlit will fit on the entire page or piece of fabric. Then you simply place the sizzlit into your die cutting machine with the paper and cut, following the die cutting machine manufacturer's directions.

One you have cut your Sizzlits, the real fun begins. With a stack of beautifully cut paper, fabric or foam decorations, you can add excitement to any craft project. Use your Sizzlits to create your own cards and impress all your friends and family while saving money at the same time. Sizzlits can be attached to nearly anything using glue, tape or spray adhesive and can also be embellished with glitter, paint, stamps anything else your imagination can come up with. Your crafts and creations will have a professional touch when you use Sizzlits!

Buy Die Cutting
Back to Guides Directory