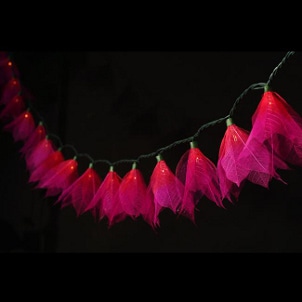 Hosting a successful party requires the right balance of ambiance and entertainment. After you've finalized the menu and stocked up on decorations, focus on the lighting effect you want for your soiree. There are several options when it comes to special lighting. Portable lamps can be moved around for parties, and more permanent lighting options are always ready for impromptu gatherings. From moody lanterns to bright sconces, light fixtures complete the party atmosphere and make big get-togethers more intimate.
Party Lighting:

Set up a projection light. Orb-shaped projection lights can transmit stars and constellations onto your ceiling for a stunning artificial night sky. Buy a laser-projecting light and set it up in a central location for a space-themed birthday party or use a projection light as a table centerpiece that will create a unique setting for a formal dinner.

String lights up outdoors. Turn your patio into the perfect place to party with string lights. Paper lantern string lights are perfect for outdoor barbecues at dusk, while brightly colored flower string lights will infuse any outdoor party with a tropical feel that works equally well in daylight or at nighttime.

Place Moroccan lanterns all around. Intricate Moroccan lanterns with light bulbs or candles inside emit a warm glow and project a pattern on nearby objects. Hang a cluster of Moroccan lamps from ceiling hooks or place them in different spots around the room.

Install wall sconces for a permanent party. If you have an area designated for hosting parties, create a festive atmosphere with wall sconces. Island-inspired sconces create a fun mood while sleek metal wall sconces have the ability to pull together a sophisticated dinner party. Wall sconces are more permanent than other types of lighting, but there are plenty of options that look natural in a party setting and also blend with your existing home decor.

Buy Light Fixtures
Back to Guides Directory