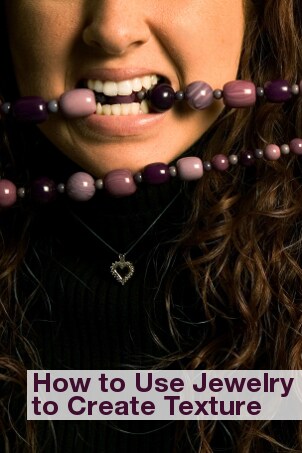 It's easy to build a wardrobe full of pieces in a range of neutrals. It makes assembling an outfit simple, but the results can start to feel predictable. Though a closet full of basics can take the guesswork out of getting ready, they can start to feel a little flat. If your clothes could use more personality, try creating some texture with jewelry.
Create Texture with Jewelry:

Mix styles: Mixing styles is one of the best ways to add texture to your look. This means enhancing frilly dresses with masculine leather bracelets or softening a grey pantsuit with curvy, feminine cocktail rings. Layer a braided hemp bracelet with a sleek gold bangle or pile on stands of pearls with chunky titanium chains.

Add some sparkle: A lot of jewelry is sparkly, but to add serious shimmer, look for pieces that have lots of layers or facets. A multi-strand gold necklace or a stack of gold bracelets would give your outfit lots of texture. For a night out, try wearing chandelier earrings with a little black dress to add interest to the outfit.

Choose a statement piece: You can create a lot of texture with a few simple pieces of jewelry, but it's also easy to go overboard. The best way to keep your look modern while adding texture is to choose one dramatic piece as a focal point. A chunky beaded bracelet or a pair of ornate chandelier earrings anchors a look and centers the focus of your ensemble. A statement necklace can add a pop of color to a simple outfit as well as dress it up a bit.

Look for patterns: You don't have to wear head-to-toe pattern to get texture into your look. If your solid-color clothing feels a little bland, try adding an animal print bangle bracelet or polka dot cocktail ring.

Consider sets: Mixing and matching jewelry doesn't always come naturally. If you are new to the concept, then opt for a jewelry set to make it simple. Many sets of stackable bracelets and rings feature one or two colorful pieces and several plain bangles or bands for built-in texture. Some sets are decorated with colorful gemstones in a variety of sizes. Hammered and textured metals add depth to jewelry sets in a variety of styles.
What Do You Want to Do Next?

Shop Fashion Jewelry
Shop Jewelry Sets
Shop All Jewelry
See All Guides
Read More Jewelry Guides
Get More Jewelry Tips