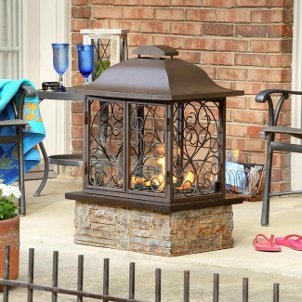 Summer nights are ideal for hanging out on the patio, but you can still use your outdoor space when cooler temperatures hit by adding a fireplace. To get the same warmth of a brick-and-mortar fireplace without the commitment or cost to build, try using an indoor/outdoor fireplace. These portable fireplaces are often heated by gel fuel and provide the right amount of warmth for fall and spring weather.
Using a Fireplace on a Patio:

Find an indoor/outdoor fireplace for seasonal use. If you live in an area that experiences all four seasons, your patio might not be the first choice for big gatherings year-round; but igniting a fire in a portable fireplace instantly warms up the outdoor area and extends the amount of time you can hang out on your porch. During winter, place these versatile fireplaces inside to enjoy as the snow falls outside.

Put a fireplace console in an enclosed patio. Enclosed patios can be tricky to use because they often don't have heating or air conditioning; but an enclosed patio is still considered part of a house since it is covered by a roof. A fireplace console can help you make sense of this confusing space because it looks like a piece of furniture but offers heat during cold months. If your house is short on space, place a television on top of a media console with a fireplace in it and turn your enclosed patio into a living room.

Try a wall-mounted electric fireplace if you have children. A portable fireplace that sits on the floor can be ideal for adult gatherings, but it may become a hazard if children are present. If you have small kids or plan on inviting them into your home, opt for a wall-mounted fireplace instead. These slim electric fireplaces plug into any outdoor outlet and can be affixed to a brick wall to safely provide your patio with heat. For more information, this guide will tell you how to buy an electric fireplace.

Add weatherproof decor. Stylish outdoor fireplaces deserve equally tasteful decor. Many home decor items were made to withstand rain and sunshine, so look for weatherproof items when completing the look of your patio. To create an outdoor party pad, try pairing a contemporary chrome fireplace with an animal-print outdoor area rug and low chaise lounge chair. For a relaxed atmosphere that can be enjoyed with a few close friends, look for a fireplace with a stone base and decorative scroll work on the sides. This type of fireplace can be accented with a portable hammock and large outdoor cushions for lounging.

Buy Fireplaces
Back to Guides Directory