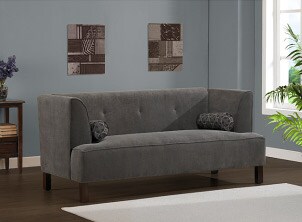 If your home decor is begging for a makeover but you don't have the cash for a dramatic transformation, try giving your room a quick facelift with throw pillows. You can take any room in your house from outdated to modern by using a few simple tricks when looking for new decorative accessories. The best part? Nothing is permanent, so you can change your look as often as you want.
How to Use Decorative Pillows:

Pick a room, any room. Accent pillows can be used in almost any room of the house; the trick is to think outside of the box. While tossing a throw pillow on the couch or bed works well, why not use a large pillow in place of a chair in the living room? By using decorative pillows in new ways, you can make a big impact, without spending big bucks.

Figure out a fresh color palette. Once you've zeroed in on the room of your choice, look at color options. There are a variety of sources to draw inspiration from, so don't feel trapped by your current surroundings.

Inspired Surroundings

If you have a favorite zebra-print decorative throw pillow that has been sitting in a closet or an underappreciated striped accent pillow that doesn't seem to match anything else in your home, now is your chance to let it shine. By adding large, modern patterns to your existing prints, you can break out of a home decor rut. Mixing prints can work if done right, just make sure to keep the background colors the same and use different sizes so your new look doesn't become overwhelming.

If you already have a strong color scheme, pick decorative pillows that add a colorful statement. Rather than sticking to one pop of color, get a modern look by using complementary colors. Bright colors have the power to infuse a bleak room with personality during the winter months and keep the happy vibes going in warm weather.

Use texture for visual interest. Color isn't the only way to make your space look fabulous and modern. When shopping for throw pillows, look for textures that you normally wouldn't use to make a room feel brand new. Velvet luxury pillows scream opulence and add high-fashion drama without being over-the-top, while organic cotton and tweed have the power to make your home feel warm and inviting. Try mixing textures the same way you would prints to add dimension to white-walled apartments or bland beige rooms.

Arrange your pillows in a unique way. Once you've found the right throw pillows for your updated area, take it one step further and experiment with the arrangement.

Make Arrangements

Instead of leaning your pillows against each other, try stacking them horizontally. By alternating the way you prop your pillows, you can showcase them in a whole new way.

Take your new decorative accessories and try angling one or two so that their pointed edges form a triangle. It's a simple geometric trick that adds even more vitality to your updated dwelling.

Buy Throw Pillows
Back to Guides Directory