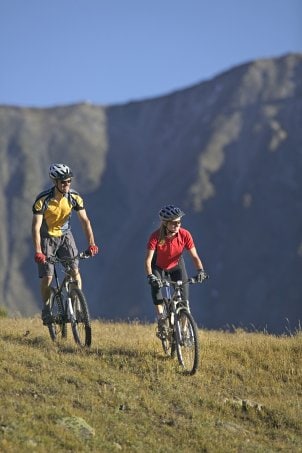 Cycling shoes are designed to improve a cyclist's performance. The sole of a cycling shoe has limited flexibility, which helps a cyclist concentrate all his or her power on pedaling. Cycling shoes also have special cleats that clip into clipless pedals (a very misleading name) to prevent the shoes from slipping off and allow you to pull up on your pedals, increasing your cycling performance. Once clipped in, the bike shoes will remain attached until the cyclist is ready to disengage. Cycling shoes are specially designed for various styles of cycling, including road racing, spinning, touring, off-road biking and mountain biking. Road-cycling shoes usually have slick plastic soles that aren't designed to provide traction. Mountain-bike shoes, on the other hand, look more like regular hiking shoes and are more suited to walking.
Using Cycling Shoes:

Sit on your bike with one foot on the ground. This position will provide you with support while you attach your bicycle shoes to one of the clipless pedals.

Use your free foot to spin one pedal to a position near the ground. It's easier to clip your bike shoes in when the pedal is close to the ground.

Line up the cleats at the bottom of your shoe with the pedal. The cleats are usually close to the center of the forefoot on the sole of your bicycle shoe.

Step on the clipless pedals until the cleats snap into place. You should hear a loud click and you should be able to pull up on your foot without your biking shoe detaching from the pedal.

Push off with the foot you have clipped in and cycle for a short distance. When you have picked up enough speed to coast, use your free foot to move the unclipped pedal down to a position close to the ground. Line it up with the pedal and snap the cleats into place.

Ride your bike. Since your biking shoes are attached to the pedals, there is no need to mash down on them. This system also allows you to pull the pedals up, making your efforts much more efficient.

Tilt your foot away from the bike when you are ready to disengage the cleats. When you need to get off your bike, turn your ankle outwards. This will cause the cleats to slide out of the clipless pedals. Repeat to disengage the other shoe. You may want to practice engaging and disengaging your new cycling shoes a few times in a parking lot before you hit the trail or the road.

Buy Cycling Equipment
Back to Guides Directory