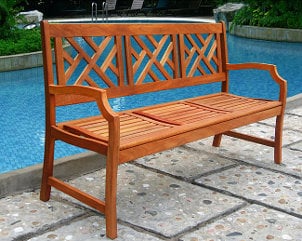 When it comes to patio furniture, nothing is as quaint as an outdoor bench. Reminiscent of old romances, an outdoor bench is the perfect way to enjoy the company of a loved one. Whether you live on a small lot or a large acreage, there are so many great ways for outdoor benches to contribute to your home. If you like the look of outdoor patio furniture but aren't sure how they can fit in around your house, here are some tips to get you started.
Using Outdoor Benches:

Patio: A patio bench is a perfect piece of outdoor furniture that will break up the monotony of outdoor furniture sets. Place an outdoor bench against the wall to the side of your patio furniture set for overflow seating. Plus, most outdoor benches are fairly light, so they can easily be carried to any point of interest.

Garden: If you enjoy admiring your garden, place an outdoor bench nearby so you have a place to relax and survey your work. After all, you garden is more than just a place to grow food; it's an excellent view. It will make a perfect place to relax on a garden bench. If you have a large garden, an outdoor bench would fit in perfectly among the walkways.

Storage: A storage bench is the perfect thing for several places around your house. Keep it on your patio and store the cushions of other deck furniture inside for protection. An outdoor storage bench provides an attractive way to store all sorts of backyard odds and ends, like barbeque utensils; plus, it offers extra seating for outdoor gatherings.

Inside: Just because it is an outdoor bench doesn't mean it won't work in your house. Place a wooden bench near a back door for a convenient place to sit and put on or remove shoes and boots. The front entrance area is also a perfect place for an outdoor bench if you have enough room. If you are determined to keep your benches outside, try putting one or two on your front doorstep on either side of the door.

Back yard: Outdoor benches are at home anywhere in your back yard. Place one against a tree so you can sit and enjoy the shade. Instead of just looking at the back yard from your house, try spending some time there with a stylish outdoor bench.

Buy Outdoor Benches
Back to Guides Directory