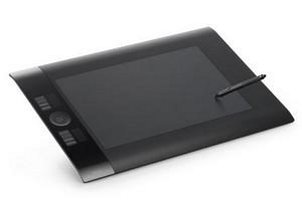 Things You Need:
Wacom graphics tablet
Computer
Spare pen nibs
One of the best tools available for graphic artists and creative professionals is a graphics tablet. Also known as a "digital pen," a graphics tablet allows you to draw free-hand with a touch-sensitive pad -- just as you would write or draw with a pen, charcoal and other writing tool. Wacom keyboards and keypads are leaders in the pen tablet industry, supplying artists with highly sensitive digital drawing capability. To help you get started, here are some steps for connecting your Wacom tablet to your computer and using it to create stunning digital images.
Using a Wacom Graphics Tablet:

Install the included software. Your Wacom tablet will come with an installation CD containing software, drivers and digital help guides. Insert the CD into your computer and follow the prompts for properly installing your pen tablet. Read each step carefully because changing settings for your Wacom tablet later may take more time.

Connect the tablet to a USB port. Most Wacom tablets connect with a simple USB cord. You can find connection ports on either the front or back of your computer or on the side of your laptop. You may be asked to plug the Wacom tablet in during software installation.

Test the various pen tips. Once installed, try out the various "nibs," or pen tips. Notice how they change the shape and texture of your pen strokes as you draw. Be careful not to press too hard, or you may put unnecessary wear on the tablet and the pen nibs.

Explore imaging software. To make full use of your Wacom graphics tablet, make sure you have professional arts and imaging software installed. The pen tip will give you superior control over paintbrush and pen tools when you're manipulating images and photos.
Wacom Tablet Tips:

Follow proper cleaning instructions for you Wacom tablet and protect the touchpad from scratches to maintain sensitivity.

If your Wacom pen nibs wear out, you can probably find replacements at Overstock.com.

Buy Wacom Keyboards and Keypads
Back to Guides Directory