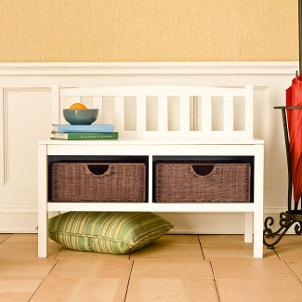 Just as good for decoration as it is for function, a storage bench is a valuable and attractive piece of furniture. Instead of just pushing your storage bench against a wall and forgetting about it, why not take full advantage of its storage capacity? Bench furniture with storage can be a perfect way to store odds and ends in an organized and easily accessible manner. Here are a few ideas to help you use your storage benches to their full potential.
Using Your Storage Bench:

Linens and blankets: It's always a struggle to find places to store extra linens and blankets. Instead of jamming them into an already overflowing closet, consider placing an upholstered storage bench at the foot of the guest room bed. In addition to storage, it will provide your guests a place to sit down they are getting ready in the morning.

Shoe rack: Although you can specifically purchase a shoe storage bench with a few shelves to hold shoes, you can make any entryway bench a shoe rack. Toss shoes into cubbies or shelves easily, and they will be out of sight. If you have a hot tub, place an entry bench next to the door leading to the Jacuzzi and fill it with sandals. (You can even throw in a few towels.)

Outdoor toys and barbecue: Try picking up an outdoor storage bench to add to your patio. Not only will it provide extra seating, but it will store backyard toys and any barbeque tools you want to keep safe and dry. A patio storage bench can also be used to store fabric patio furniture covers or outdoor cushions during rainstorms.

Kids' room: A storage bench in your kids' rooms can double as a toy chest. Instead of taking up loads of room, a storage bench allows your children to organize their toys and books and provides a surface for play or seating.

Kitchen items: Using a storage bench as your kitchen bench will help you find extra space for kitchen odds and ends. You can use your kitchen storage bench for overflow seating, too. Try using it to store extra table linens or cooking ingredients, like flour and sugar. If you buy food in bulk, a bench is the perfect place to keep your back stock.

Buy Storage Benches
Back to Guides Directory